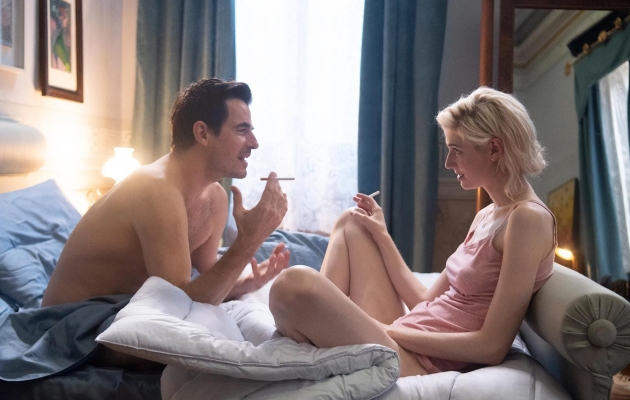 25 October, 20:15 · CKK Jordanki
The film is an adaptation of a very well received novel under the same title written by Charles Willeford, which focuses on the fate of an eccentric millionaire Cassidy (Mick Jagger), who makes an unexpected decision to invite James Figueras (Claes Bang), an art critic, to come visit him at this mansion by Lake Como. There is a hidden scheme behind this invitation. James comes along with a beautiful and mysterious Berenice (Elizabeth Debicki). The two are having a passionate love affair and they see this visit as a perfect opportunity to get closer to each other.
When all three of them are having dinner together, Cassidy gives James an offer he could not possibly refuse. He wants the art critic to steal a unique painting for him, one Cassidy obsessively desires to own, promising James fame and great career in return. James accepts the job unaware that it is a meticulously set trap, feeding on greed, ambition, and lies. He falls right into it dragging Berenice, just as unaware of the danger as he is, with him. Both of them are about to discover the truth they would never want to know.
| | |
| --- | --- |
| Director: | Giuseppe Capotondi |
| Screenplay: | Scott B. Smith |
| Music: | Craig Armstrong |
| Cinematography: | David Ungaro |
| Editing: | Guido Notari |
| Cast: | Elizabeth Debicki, Donald Sutherland, Claes Bang, Mick Jagger, Rosalind Halstead |
| Producers: | William Horberg, David Lancaster, David Zander |
| Production: | Indiana Production Company, MJZ, Rumble Films |
| Distribution: | Best Film |
| Awards: | FF w Wenecji / Venice FF – Nagroda Fundacji Mimmo Rotella / Fondazione Mimmo Rotella Award (2019) |