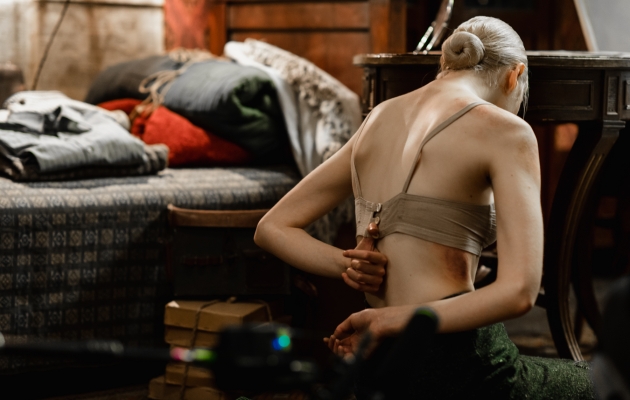 20 October, 20:00 · CKK Jordanki
In Beanpole, which was awarded in Cannes, we admire a magnificent reconstruction of the reality and intensive atmosphere, which characterised the period of time shortly after the end of WWII. It was a time, when euphoria went hand in hand with mourning, and when hope was only just sprouting among the ruins which were still fresh wounds. In the latest film by Kantemir Balagov, author of the brilliant Closeness, we see two young women, Masha and Iya, close friends, trying to find a place for themselves in post-war Leningrad. When working on a script, Balagov was inspired by the famous reportage War's Unwomanly Face written by Svetlana Alexandrovna Alexievich, awarded the 2015 Nobel Prize in Literature. The focus of the film director is not on heroic deeds, though, but on a new definition of heroism, interpreted as little victories of life over death, hope over grieving, and youth over dramatic experiences, which happen every day.
| | |
| --- | --- |
| Director: | Kantemir Bałagow |
| Screenplay: | Kantemir Bałagow, Aleksandr Terechow |
| Music: | Jewgienij Galperine |
| Cinematography: | Ksenia Sereda |
| Editing: | Igor Litoninskiy |
| Cast: | Wiktoria Miroszniczenko, Wasilisa Perełygina, Andriej Bykow, Konstantin Bałakiriew, Timofiej Głazkow |
| Producers: | Natalia Gorina, Sergey Melkumov, Ellen Rodnianski, Alexander Rodnyansky, Michel Merkt |
| Production: | Non-Stop Production |
| Distribution: | Stowarzyszenie Nowe Horyzonty |
| Awards: | FF w Cannes / Cannes FF – sekcja Inne Spojrzenie: Najlepszy Reżyser, Nagroda FIPRESCI / Un Certain Regard: Best Director, FIPRESCI Prize (2019) |
Kantemir Balagov was born in 1991. He is a Russian film director and screenwriter from Nalchik in the Kabardino-Balkar Republic. He has completed the courses conducted by Alexander Sokurov at the Kabardino-Balkar State University. Kantemir Balagov debuted with a heart-breaking full-length drama Closeness, which told the story of a young Jewish girl from the Caucasus. The film premièred at Cannes 2017, as part of the Un Certain Regard section, winning the FIPRESCI Prize.
Filmography:
2019 – Wysoka dziewczyna / Beanpole

2017 – Bliskość / Closeness