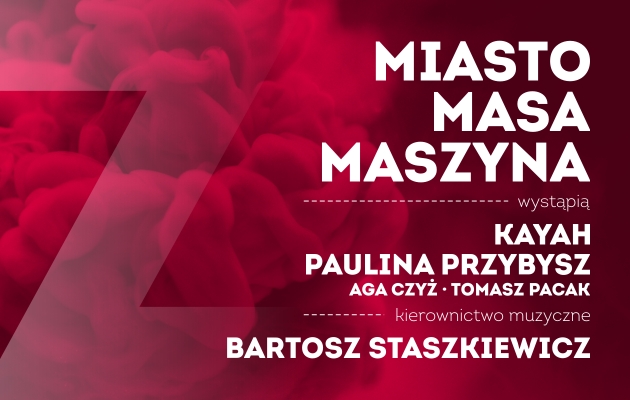 26 October, 19:00 · CKK Jordanki
James Cameron brought to life the vision of a robot as Tadeusz Peiper saw it — a machine of superior strength and intelligence, immune to the passing of time, absorbing its power from energy, indifferent to hunger, thirst, and sleep, all of which make it a being superior to men, slowly ensuring its domination over them. The clash of the intentions expressed by Peiper and their reversed reflection in the film by James Cameron will have its powerful resonance in the music concert Metropolis, Mass, Machine which ends the festival. The foundation of this music and film project is a coherent mixture of off camera voices, song lyrics, and visualisations. The selection of songs is the work of Bartek Staszkiewicz, artistic director, which guarantees the most powerful dosage of emotions. You will hear such songs as Enjoy the Silence by Depeche Mode, State of the Nation by Industry, Self Control by Raf, Sounds Like a Melody by Alphaville, and many other popular and loved pieces of music, all of them dressed in new industrialised interpretations. Our concert will surely unite robots and men, thanks to synthesizers and original interpretations!
While on stage, the musicians will be accompanied by visualisations crafted by Maciej Wróblewski, the voices of Kayah, Paulina Przybysz, Aga Czyż, and Tomasz Pacek, and the electronic sounds conjured by a band comprised of four keyboard players and a drummer. All of them are going to take us to a futuristic reality that Peiper and Cameron had predicted.
The concert will be the crowning touch to the Closing Ceremony taking place on 26th October, 2019, at 7.00 p.m. APATOR S.A. is exclusive Partner of the "Energy of Film Music" Section.