Must See Must Be
The section Must See Must Bee is a summary of the films screened during the most important film festivals around the world which even the most knowledgeable film enthusiasts might have missed, when making an effort to digest the plethora of new film productions. More »
Polonica
Polish artists are crossing the boundaries — both metaphorically, and literally. When working abroad, their contribute their unique style, talent, and personality, to international cinema. The section POLONICA is designed to present the most interesting films made by or with the participation of Polish male and female artists. More »
Tim Burton's Peculiar Five
Peculiar, unconventional, unique, unlike any other artist in the world — you cannot confuse him with anybody else. The world of Tim Burton is one of immense and absolutely unique imagination, filled with various colours, and abundant in astonishing sounds and characters. This is a cinema you cannot tame or stop. Beautiful, lively, and absorbing. More »
Other Bank, The
Gagma Napiri · dir. George Ovashvili
Georgia, Kazakhstan 2009, 90'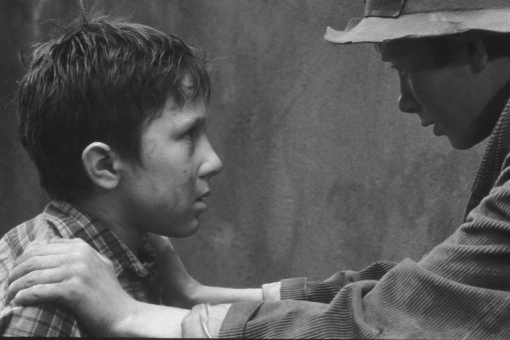 Trailer
Torn from his father at the beginning of the Georgian-Abkhazia war, slightly cross-eyed 12-year-old Tedo is tired of living the life of a refugee. He works hard at an auto repair shop, and his young mother, Keto, works as a clerk, but it's not enough to help them get by, so Keto starts to prostitute herself to help them survive. It's all too much for Tedo to handle, and he decides to search for his father in war-torn Abkhazia. Warned not to go into this tinderbox, he decides to go anyway. Unable to speak the local language and afraid for his safety, Tedo pretends to be deaf as his odyssey takes him across physical and emotional landscapes and borders where nationalism rules and where the 'eye for an eye' mentality dominates. The war-ravaged world he encounters reflects the complex state of affairs wrestling within the boy's psyche.
| | |
| --- | --- |
| Director: | George Ovashvili |
| Screenplay: | Rustam Ibragimbekov, George Ovashvili, Nugzar Shataidze |
| Music: | Josef Bardanashvili |
| Cinematography: | Shahriar Assadi |
| Editing: | Sun-Min Kim |
| Cast: | Tedo Bekauri, Galoba Gambaria, Nika Alajaev, Tamara Meskhi |
George Ovashvili was born in 1963 in Tiflis (Georgia). He is graduale of the Georgian State Institute of Cinema and Theatre (1996), and the New York Film Academy at Universal Studios in Hollywood.
Filmography:
1997: Wagonette
2005: Zgvis doninan
2010: Drugi brzeg / Other Bank