Castle Cinema
Let us take you back to the 1980s, amidst the unique scenery of the ruins of the Teutonic Castle, when some of the legendary horror films, now considered 'cult classics' were made. Although many of them were remade – some even saw many sequels made to continue the original idea – our intention is to show you the archetypes of the characters that have forever gone down in the history of this particular genre. The genre that is adored by so many devoted cinema goers. More »
Must See Must Be
The section Must See Must Bee is a summary of the films screened during the most important film festivals around the world which even the most knowledgeable film enthusiasts might have missed, when making an effort to digest the plethora of new film productions. More »
The Rebels
The section Rebels has been an inherent part of the Tofifest International Film Festival for quite a number of years now. This section emphasises the main theme of the festival, which is to introduce characters and personalities whose rebellious spirit, perseverance, or talent makes them stand out among the others, and change the course of history (the contemporary one included). More »
Felicità
Felicità · dir. Salomé Aleksi
Georgia 2009, 30'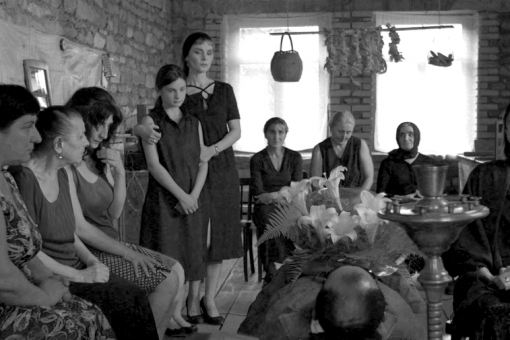 Tamara, Georgian woman, lives and works illegaly in Italy. Her husband dies in a car accident but her status doesn't allow her to reach Georgia. Unable to attend his funeral, she decides to participate to funeral ceremony via cellular call… At 66th Venice Festival movie got a Special Mention for providing a fresh and funny look at a serious economic and political problem.
| | |
| --- | --- |
| Director: | Salomé Aleksi |
| Music: | Giya Kancheli |
| Cinematography: | Giorgi Beridze |
| Editing: | Salome Machaidze, Elene Murjikneli |
| Cast: | Gia Abesalashvili, Rusudan Bolkvadze, Paata Guliashvili, Nino Kasradze |
Salomé Aleksi was born in 1966 in Tbilisi (Georgia). She graduated from Academy of the Fine Arts in Tbilisi and Directorial Department in La FEMIS (Paris).
Filmography:
One Night
Black Sea
Should We Go to the Sea?
Felicità