Must See Must Be
The section Must See Must Bee is a summary of the films screened during the most important film festivals around the world which even the most knowledgeable film enthusiasts might have missed, when making an effort to digest the plethora of new film productions. More »
Polonica
Polish artists are crossing the boundaries — both metaphorically, and literally. When working abroad, their contribute their unique style, talent, and personality, to international cinema. The section POLONICA is designed to present the most interesting films made by or with the participation of Polish male and female artists. More »
Tim Burton's Peculiar Five
Peculiar, unconventional, unique, unlike any other artist in the world — you cannot confuse him with anybody else. The world of Tim Burton is one of immense and absolutely unique imagination, filled with various colours, and abundant in astonishing sounds and characters. This is a cinema you cannot tame or stop. Beautiful, lively, and absorbing. More »
Three Houses
Sami Sakhli · dir. Zaza Urushadze
Georgia 2008, 96'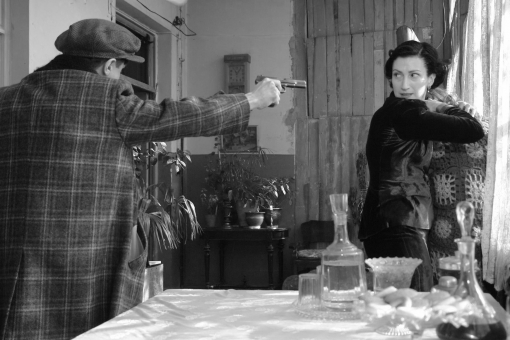 Three stories happening in three different centuries, revolve around a mysterious painting entitled Two Owls. In the 19th century thread, a man living in a big mansion is worried about his brother whose wife died a while ago. The brother however behaves as if she was still alive. A befriended psychiatrist is being called for help in order to examine the phenomenon in long conversations. He has to recognise however that the man's behaviour doesn't harm anyone. He actually offers a painting to the doctor which his wife allegedly just finished: it's called Two Owls. The painting reappears in the midst of World War II. A woman finds it in the apartment of her husband's lover. The general of the Red Army was just found dead there. Torn between ambiguous feelings of grief and anger the widow has to make a decision. The last story happens in present time. A grand-daughter of the woman painter from the the first episode discovers that the only piece that was left from her grandmother's work has been bought by a stranger.
| | |
| --- | --- |
| Director: | Zaza Urushadze |
| Screenplay: | Zaza Urushadze |
| Music: | Paata Godziashvili |
| Cinematography: | Giorgi Beridze, Giorgi Shevelidze |
| Editing: | Alexander Kuranov |
| Cast: | Tedo Bekauri, Galoba Gambaria, Nika Alajaev, Tamara Meskhi |
Zaza Urushadze was born in 1966. Graduated from Institute of Theatre and Film in Tbilisi in 1987 (speciality — film director); worked as a director in the Georgian Film Studio until 1999. In 2002-04 he was Director of the Georgian National Film Centre.
Filmography:
2008: Three Houses
1998:  Here Comes the Dawn
1989: Mattvis, vints mamam miatova