Must See Must Be
The section Must See Must Bee is a summary of the films screened during the most important film festivals around the world which even the most knowledgeable film enthusiasts might have missed, when making an effort to digest the plethora of new film productions. More »
Polonica
Polish artists are crossing the boundaries — both metaphorically, and literally. When working abroad, their contribute their unique style, talent, and personality, to international cinema. The section POLONICA is designed to present the most interesting films made by or with the participation of Polish male and female artists. More »
Tim Burton's Peculiar Five
Peculiar, unconventional, unique, unlike any other artist in the world — you cannot confuse him with anybody else. The world of Tim Burton is one of immense and absolutely unique imagination, filled with various colours, and abundant in astonishing sounds and characters. This is a cinema you cannot tame or stop. Beautiful, lively, and absorbing. More »
Under repair
Do naprawy · dir. Dariusz Gackowski
Poland 2007, 10'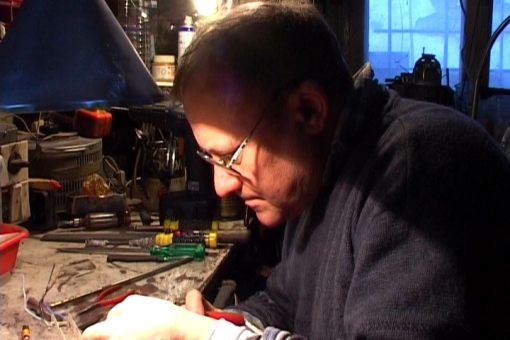 Janusz Borowski's work — shop of reparation household equipment is a living monument of past decades. Now appliances are not reparated. A broken DVD player is thrown away to refuse heap, whereas in Borowski's case people come with their hoovers, TVs and old radio. Not only the retired. The young people from Bydgoszcz know that there, in this little poky room at housing estate, it is possible to repair father's tape recorder, on which you are able to listen to the Beatles' recordings. A nostalgic, told with smile story.
| | |
| --- | --- |
| Director: | Dariusz Gackowski |
The team of young documentaries directors from Bydgoszcz — Darek Gackowski, Krzysztof Nowicki and Monika Paprzycka — seems as The Trinity, but is it true? Undeniably, they are great in independent cinema popularizating. Dariusz Gackowski is a photographer; as an independent artist he tries to make documentaries. His latest Marek — shown at many Polish festivals — tells the difficulties of blind person's daily life. Krzysztof Nowicki is an author, known for frequent visitors of independent festivals because of Reggae Is My Life in 2008 — an unique documentary about reggae subculture in Ostróda.
Beyond the cinema and wide distribution of multiplexes, the independent film art is being propagated with emotion and passion – this is what members of 'Koloroffon' say about their art.