New Finnish Cinema
A breath of fresh air with a tint of a sense of humour far from being trivial, mixed with a bit of sadness and grotesque: these are the ingredients that define Finnish Cinema and make it unique. This is a fitting description for both old classics and latest productions that come from Finland. More »
Must See Must Be
The section Must See Must Bee is a summary of the films screened during the most important film festivals around the world which even the most knowledgeable film enthusiasts might have missed, when making an effort to digest the plethora of new film productions. More »
Marek
Marek · dir. Dariusz Gackowski
Poland 2008, 3'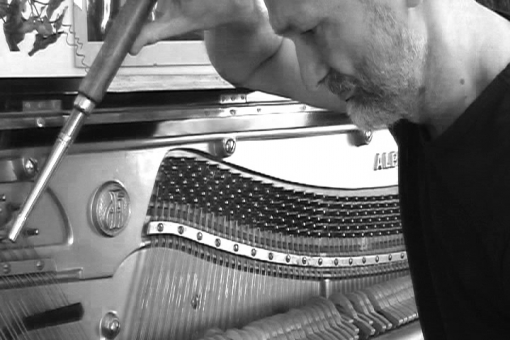 The director jokes that longer he tells about this film than is needed to watch it. In fact, it is more a mini-study than film, a short, optimistic story about Marek Andruszewski — a blind musician and Brail textbooks author. If someone loses sight and does not shoot himself, it's a good sign says the main character and this is a key to the story about a man who found the way in his life although the misfortune which touched him.
| | |
| --- | --- |
| Director: | Dariusz Gackowski |
The team of young documentaries directors from Bydgoszcz — Darek Gackowski, Krzysztof Nowicki and Monika Paprzycka — seems as The Trinity, but is it true? Undeniably, they are great in independent cinema popularizating. Dariusz Gackowski is a photographer; as an independent artist he tries to make documentaries. His latest Marek — shown at many Polish festivals — tells the difficulties of blind person's daily life. Krzysztof Nowicki is an author, known for frequent visitors of independent festivals because of Reggae Is My Life in 2008 — an unique documentary about reggae subculture in Ostróda.
Beyond the cinema and wide distribution of multiplexes, the independent film art is being propagated with emotion and passion – this is what members of 'Koloroffon' say about their art.