Cinema Under the Stars
As the historic urban space of Toruń constitutes an unforgettable experience in itself, weshall let you have a taste of it during this year's edition of the festival. Once again, we aregoing to meet in the yard of the Old Town City Hall in Toruń where you will have a chance to watch five films we have selected for that particular scenery: More »
Castle Cinema
Let us take you back to the 1980s, amidst the unique scenery of the ruins of the Teutonic Castle, when some of the legendary horror films, now considered 'cult classics' were made. Although many of them were remade – some even saw many sequels made to continue the original idea – our intention is to show you the archetypes of the characters that have forever gone down in the history of this particular genre. The genre that is adored by so many devoted cinema goers. More »
Must See Must Be
The section Must See Must Bee is a summary of the films screened during the most important film festivals around the world which even the most knowledgeable film enthusiasts might have missed, when making an effort to digest the plethora of new film productions. More »
First of all, Felicia
Felicia inainte de toate · dir. Razvan Radulescu, Melissa de Raaf
Romania 2009, 120'
Polish premiere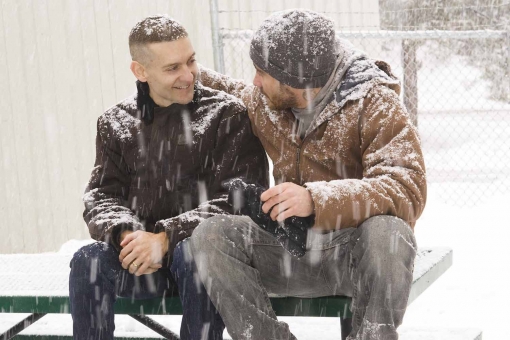 Trailer
First of all, Felicia is the feature debut of Razvan Radulescu and Melissa de Raaf Romanian-Dutch duo. It is also the Polish premiere of the film.
Subtle acting and emotional intensity are the strongest part of First of All, Felicia, according to words of The 'Hollywood Reporter's' critic. The story talks about the alienated condition of a 40 year old woman who believed to have followed her passion and now doesn't know anymore where she belongs. We are on Felicia's departure day after the two week annual visit to her family in Bucharest. As the taxi drives through the jammed streets of Bucharest, Felicia and her mother realize they will never be in time for the flight. While trying to rebook her ticket, Felicia begins to understand she has to choose between two families — parents and son who has stayed at home.
| | |
| --- | --- |
| Director: | Razvan Radulescu, Melissa de Raaf |
| Screenplay: | Razvan Radulescu, Melissa de Raaf |
| Cinematography: | Tudor Lucaciu |
| Editing: | Dana Bunescu |
| Cast: | Ileana Cernat, Ozana Oancea |
Razvan Radulescu became famous as the author of the screenplay for Mr. Lazarescu Death which won at festivals in Cannes, Cluj and Bratislava. Melissa De Raaf occupies with the theory of art, philosophy and visual arts and cowrote several scripts with Radulescu for various film directors
First of all, Felicia is the first common work of the famous Romanian writer and Dutch art curator.