Cinema Under the Stars
As the historic urban space of Toruń constitutes an unforgettable experience in itself, weshall let you have a taste of it during this year's edition of the festival. Once again, we aregoing to meet in the yard of the Old Town City Hall in Toruń where you will have a chance to watch five films we have selected for that particular scenery: More »
Castle Cinema
Let us take you back to the 1980s, amidst the unique scenery of the ruins of the Teutonic Castle, when some of the legendary horror films, now considered 'cult classics' were made. Although many of them were remade – some even saw many sequels made to continue the original idea – our intention is to show you the archetypes of the characters that have forever gone down in the history of this particular genre. The genre that is adored by so many devoted cinema goers. More »
Must See Must Be
The section Must See Must Bee is a summary of the films screened during the most important film festivals around the world which even the most knowledgeable film enthusiasts might have missed, when making an effort to digest the plethora of new film productions. More »
Pigeon: Impossible
Pigeon: Impossible · dir. Lucas Martell
USA 2009, 6'
Polish premiere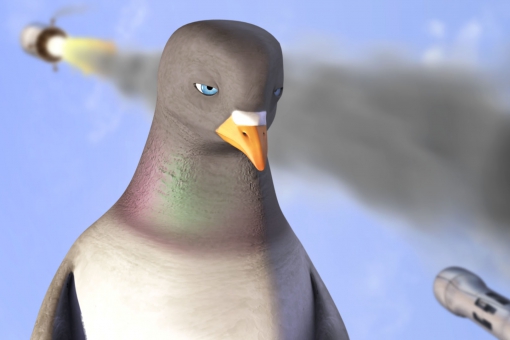 Is the tale of Walter, arookie secret agent faced with a problem seldom covered in basic training: what to do when a curious pigeon gets trapped inside your multi-million dollar, government-issued nuclear briefcase. The film took nearly 5 years to complete and is the first attempt at animation by writer/director Lucas Martell.
| | |
| --- | --- |
| Director: | Lucas Martell |
| Screenplay: | Lucas Martell |
| Music: | Christopher Reyman |
| Editing: | Austen Menges |
| Awards: | Najlepsza Animacja Best Animation (Savannah FF); FICCI BAF, Pierwsza Nagroda / First Prize (Rhode Island IFF); Najlepszy Film / Best Film (Palm Springs Shorts Fest); Nagroda Mopti / Mopti Award (KLIK! Amsterdam Animation Festival) |
Lucas Martell — he is a freelance animator and VFX artist. After graduating from Millikin University with a bachelor's degree in Commercial Music, he moved to Austin, Texas.