Must See Must Be
The section Must See Must Bee is a summary of the films screened during the most important film festivals around the world which even the most knowledgeable film enthusiasts might have missed, when making an effort to digest the plethora of new film productions. More »
Polonica
Polish artists are crossing the boundaries — both metaphorically, and literally. When working abroad, their contribute their unique style, talent, and personality, to international cinema. The section POLONICA is designed to present the most interesting films made by or with the participation of Polish male and female artists. More »
Tim Burton's Peculiar Five
Peculiar, unconventional, unique, unlike any other artist in the world — you cannot confuse him with anybody else. The world of Tim Burton is one of immense and absolutely unique imagination, filled with various colours, and abundant in astonishing sounds and characters. This is a cinema you cannot tame or stop. Beautiful, lively, and absorbing. More »
To the Sea
Alamar · dir. Pedro González-Rubio
Mexico 2009, 73'
Polish premiere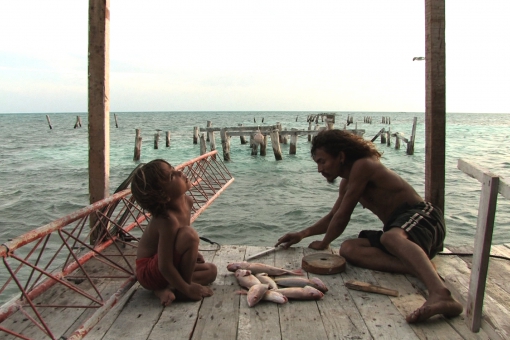 Trailer
To the Sea is a debut of the Mexican director Pedro González–Rubio in the feature film genre. The film is regarded as one of the most interesting Mexican movies of 2009. The movie cannot be classified explicitly as it blurs the line between feature and documentary film. It is a kind of a movie essay of an exceptionally pure and simple expression devoid of cheap sentimentalism. The movie resembles a kind of ethnographic album, filled with superb photographs presenting the unique ecosystem of Banco Chinchorro — a Mexican region enlisted on the World Heritage List — which is a habitat of many unique plant and animal species and the seat of the second biggest coral reef in the world.
The movie is not only a story about relations between people and nature but also a memorable tale about a father's role and the meaning of fatherhood. The process of forming a delicate but strong bond between 5-year old Natan and Jorge, his father, helps the viewer understand the potential that is hidden in a conscious and mature fatherhood.
| | |
| --- | --- |
| Director: | Pedro González-Rubio |
| Screenplay: | Pedro González-Rubio |
| Cinematography: | Pedro González-Rubio |
| Editing: | Pedro González-Rubio |
| Cast: | Jorge Machado, Roberta Palombini, Natan Machado Palombini, Nestor Marin "Matraca" |
| Awards: | Tiger Award (MFF / IFF Rotterdam 2009); Nagroda Jury / Jury Award (MFF / IFF Miami) |
Pedro González-Rubio — Mexican writer, director, operator and editor; born in Brussels. He became interested in films and visual arts at the age of 16, when he was living in New Delhi. He studied at a faculty of media in Mexico and then moved onto the London Film School. He worked as a cameraman at Born Without (2007) directed by Eva Noryind. He made his debut as a director with Toro Negro (2005). To the Sea is his first feature film.
Filmography:
2005: Toro Negro
2007: Common Ground
2009: Nad morzem / On the Sea