Eyes Wide Open
Einaym Pkuhot · dir. Haim Tabakman
Israel, France, Germany 2009, 90'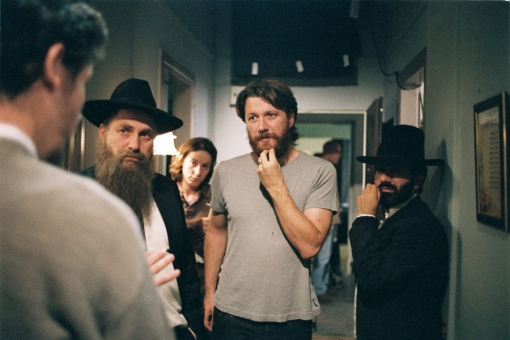 Trailer
Aaron is a respected member of Jewish community in his forties who leads quiet and orderly life in the orthodox quarter of Jerusalem. Work fills nearly the whole his time. He spends the leasure time either with family or praying. The routine of his daily life is broken by Ezri — nineteen years old student who unexpectedly visits Aaron's shop. The main character decides to employ and ensure him friendly care. However, this illusory father's feelings turn into passion and lust, from which it is impossible to escape. After some time the situation comes out of control and is so tense that it starts surpassing everyone's expectations, even provoking the attack of the orthodox's environment. Social pressure and inner dilemma force Aaron to take rational measures. Eyes Wide Open is the one of the most interesting recent Israel films that so openly tells about the homosexual love of men, forbidden in Judaism.
| | |
| --- | --- |
| Director: | Haim Tabakman |
| Screenplay: | Merav Doster |
| Music: | Nathaniel Mechaly |
| Cinematography: | Axel Schneppat |
| Editing: | Dov Stoyer |
| Cast: | Zohar Strass, Ran Danker, Tinkerbel |
Haim Tabakman was born in 1975. He studied on the Faculty of Film and Television at the university in Tel Aviv. Free Loaders (2003) was his debut short film. In 2004 Tabakman filmed the next one: The Poet's Home. He cooperated as an editor in some films, such as My father, my lord directed by David Volach. Eyes Wide Open is his first full-length film.
Filmography:
2003: Free Loaders
2004: The poet's Home
2006: Lear Zero Diaries
2009: Oczy szeroko otwarte / Eyes Wide Open