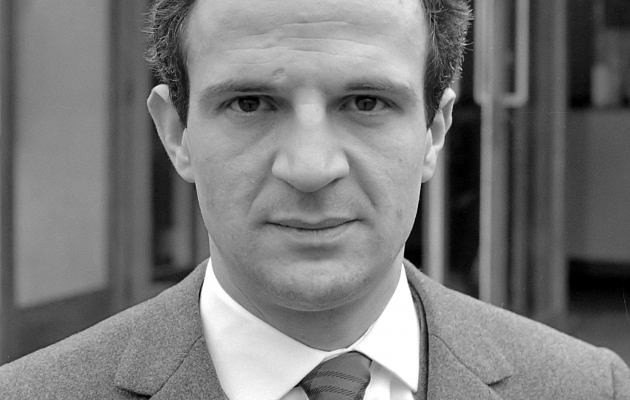 Cinema is the basic ingredient in the biography of François Truffaut.
When he was still a schoolboy, he would frequently skip classes and run to the cinema. He watched whatever was on. He was particularly infatuated with classics, but he was also interested in new productions, and had the courage to confront him with experiments in cinema. His knowledge about cinema was growing faster, than knowledge about anyother aspect of life. One could run into him at the Studio Parnasse on every Tuesday evening, where he would be watching foreign films. After each screening, there was a film knowledge competition. The legend has it that Truffaut won every single week. He had no match in that.
In his classic film The 400 Blows, we can see a portrait of Truffaut from that period of time. Antoine Doinel, his on-screen counterpart, also skips classes, together with a classmate. And they go to the cinema. As can be expected, such behaviour is not approved by school authorities or the family. After yet another row about this, the mother suggests that Antoine went to the cinema, in an effort to ease the situation. When they come home, they are having a joyful discussion about the film they had just seen. Cinema overcomes conflict and strengthens family bonds. Cinema soothes the savage breast.
However, cinema was to young Truffaut first and foremost a form of escaping from the family house. François Truffaut was born on 6th February 1932, in Paris, as a son of Janine de Montferrand. The identity of his father was never disclosed to the family. Nonetheless, in 1968, Truffaut hired a private detective to look for his father. The detective succeeded in reaching Roland Levy, a Jewish dentist. However, his relatives never accepted this to be true. The boy was raised primarily by his grandma. She was the one who instilled the love for music and literature in him. Truffaut was 8 years old, when she died. This was the moment when Truffaut started living with his mother and her partner, who would then adopt him and give him his surname. Since that time, the boy spent as much time with his friends, as he possibly could. And this was exactly the moment to discover cinema. His love for cinema truly erupted, when Truffaut saw Paradise Now by Abel Gance.
The habit of exchanging school classes for cinema took a toll on his education. He was expelled from school, when he was only 14. As a result, he decided to take care of his own education. His school curriculum would include three films a day and three books a week. When he has prepared himself enough, he established his own film club, based on the concept of a film society, in 1948. Each screening was preceded by a lecture, and then there was a discussion, after the screening. François Truffaut's personal master was Alfred Hitchcock, with whom Truffaut would later have a famous extended interview. The Hitchcock/Truffaut interview is a must have in the library of film enthusiast, who has a sense of self respect.
Thanks to his film society, Truffaut met André Bazin, cinema theoretician and film critic. Bazin helped Truffaut not only go deeper into the arcane knowledge of cinema, but also find stability in his private life. It was necessary, as young François Truffaut would often have dark clouds gathering over his head. He would frequently break the law for financial reasons. When Truffaut was charged with desertion from the army, Bazin pulled his political strings to get him out of prison. Upon his release, Bazin gave him a position in his "Cahiers du cinema" magazine, first as a film critic, and then as an editor. Truffaut quickly gained himself a reputation of the "gravedigger of French cinema". He was famous for being merciless. He was the only journalist that was not invited to participate in Cannes IFF, in 1958. Just a year later, he would receive Grand Prix for his The 400 Blows, at the very same festival.
His successive films would also gain him recognition of the audiences and film critics — the filmmaker won many prestigious awards and a few nominations for Academy Awards. He was working ceaselessly, until his death in 1984, when a brain tumour prevented him from finishing several projects. People still put flowers on his grave in the Montmartre cemetery. They are offered by enthusiasts of such films by François Truffaut, as Jules and Jim, Shoot the Piano Player, The Wild Child, The Man Who Loved Women, or The Last Metro, all of which are considered the canonical work of international cinema. Truffaut left a great intellectual legacy. His is a topic of university lectures and one of the most frequently quoted filmmakers. He is identified with the outbreak and boom of the French New Wave — one of the most important movements in the history of cinema that changed the way we perceive cinema.