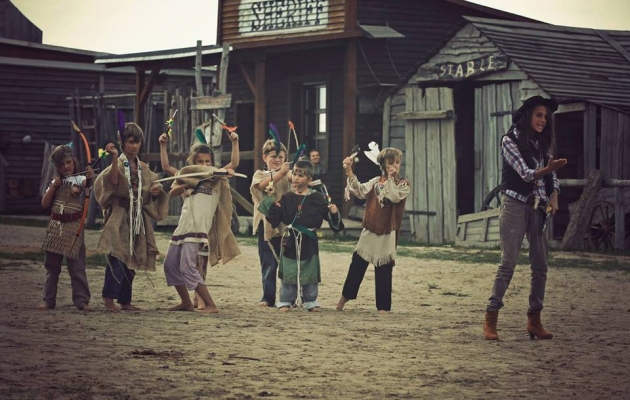 "Movieplay!" is a creative, transdisciplinary form of informal film education for kids and teenagers which is accompanying event during International Film Festival Tofifest — it's the range of actions focused on broadly defined cinema and editing picture and sound.
Young participants of the schooling are not only the viewer of the proposed action by the educator but also, and mainly, their active collaborators. "Movieplay!" involves the youngest with different than passive form of contact with motion picture.
This year the inspiration is taken from low-budget spaghetti western and all adventurous stories born on the very Wild West. Throughout cyclical realisation of schooling action we will perform the analysis of film's language and we will try to define western as a cinematic type. We will acknowledge its style and atmosphere so that at the end we can create our own version of art movement.
Will the citizens of the Valley of Snakes liberate from the despotic administration of sheriff and his mass of lowdown deputies? Will the persecuted mine workers and oppressed Indians be fully at peace? The participants of the "Movieplay!" will decide about that soon.
Time: 25–26th October, 12.00–15.00
Place: Domkultury! (Bydgoskie Przedmieście), ul. Sienkiewicza 11/2, Toruń
Signing up: sztukacieszuka@gmail.com