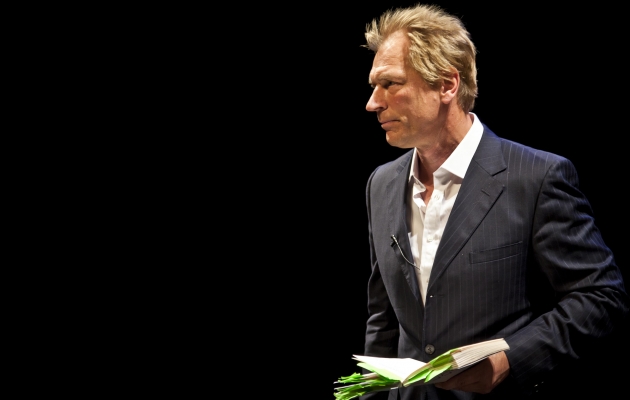 Screenings
20 October, 19:00 · "Baj Pomorski" Theatre
We are happy to announce one of the most important events that will take place at this year's edition of the TOFIFEST IFF. British actor Julian Sands will give a performance in Toruń in a stage play titled "A Celebration of Harold Pinter", directed by John Malkovich.
This event will be a meeting of two muses — theatre and cinema. It will also be an occasion to meet with an extraordinary film actor, who portrays an equally extraordinary theatre playwright. Sands and Malkovich have concocted a spectacular monodrama about Harold Pinter, who is portrayed from many sides, not only as an actor. During the performance, we will also get to know him as a man with all his vices and moods. And that was probably the reason for the New York Times to express the following opinion, when reviewing the stage performance by Julian Sands: "...you feel the playwright's presence...". The play was nominated for the Drama Desk Award 2003.
The concept for this performance came to life in 2005, when Julian Sands suggested doing a stage adaptation of a collection of poems by that Noble Prize winner. More than just agreeing to cooperate on the project, Pinter also let Sands explore his everyday life and work. That unique collaboration soon transformed into a marvellously funny and fascinating solo performance by Julian Sands.
A celebration of Harold Pinter was performed for the first time at a festival in Edinburgh, in 2011. The stage play was then on tour in the biggest cities in the world, including, New York, Chicago, San Francisco, Los Angeles, Mexico, London, and Paris. We will now have a chance to see it in Toruń.
John Malkovich was the one, who gave the finishing touches to the monodrama. After all, this great Hollywood star and a two-time nominee for Academy Awards started his professional career in theatre. He started the Steppenwolf Theatre Company in Chicago, when he was only 24. A few years later, he made his stage debut at the most famous theatre district in the world – New York's Broadway. He performed in Death of a Salesman, alongside Dustin Hoffman. The adaptation of that stage play for television gave John Malkovich the Emmy Award. Later on, he also directed stage adaptations in Europe, including, among others, a French version of Dangerous Liaisons for Théâtre de l'Atelier in Paris. The actor has also directed three of his own films: A Postcard from Istanbul, Hideous Man, and The Dancer Upstairs.
As for Julian Sands, his most famous role was in The Killing Fields by Roland Joffe (1984) and A Room with a View (1985) by James Ivory. The actor has performed in theatre, cinema, and television, for nearly three decades now. He worked with such renowned filmmakers, as Mike Figgis, David Cronenberg, Wim Wenders, or Dario Argento. He portrayed the main protagonist in two parts of the cult film Warlock, in Leaving Las Vegas, as well as in Arachnophobia and Ocean's 13. As of late, we could admire his talent, among others, in such TV series, as 24 Hours, Dexter, Stargate SG-1, and Smallville, but also in cinema, in The Girl with the Dragon Tattoo. Sands is frequently cast to play villains and... Russians. Occasionally, we can hear him dubbing in computer games. And although he has lived in Los Angeles for some time now, he still sees himself as a vagabond, who never stays in one place for too long.
Noble Prize winner Harold Pinter is an outstanding author of Theatre of the Absurd. He was born in 1930 and wrote 32 dramas, including, among others, The Birthday Party, Silence, and The Caretaker. He is considered one of the most representative modern British playwrights of the second half of the 20th century. However, there was also a film face of Harold Pinter. He was nominated for Academy Awards, as a screenwriter. Among others, he was the author of scripts for The French Lieutenant's Woman, The Go-Between, and The Last Tycoon. He was also seen sporadically on the silver screen, in episodic roles, such as the one in The Tailor of Panama or Mansfield Park. He was very much involved in politics. He opposed the war in Iraq, the NATO war in Kosovo, and the trail of Slobodan Milošević. There is also a number of anti-war poems by his hand.
| | |
| --- | --- |
| Director: | John Malkovich |
| Cast: | Julian Sands |