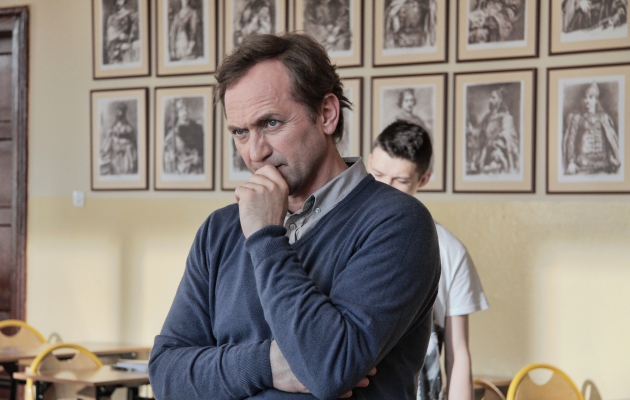 Screenings
21 October, 14:00 · Od Nowa – new hall
Kacper (Andrzej Chyra) is a history teacher from a secondary school in Lublin, adored by his students, who is gradually losing sight. He has received a medical diagnosis that leaves no room for doubts. The man may suffer from permanent blindness, which results from a genetic defect. Heartbroken at first, he eventually decides to hide his medical condition from the superiors, so as to keep his job and make sure that his students make it to the matura exam (secondary school exit exam). The only keeper of his secret is his best friend Wiktor (Arkadiusz Jakubik). Struggling with the new situation and challenges, Kacper enters into a close relationship with one of his female colleagues (Urszula Grabowska), and tries to help a rebellious student, Klara (Eliza Rycembel), who is hiding her own secret.
| | |
| --- | --- |
| Director: | Jacek Lusiński |
| Screenplay: | Jacek Lusiński |
| Music: | Paweł Lucewicz |
| Cinematography: | Witold Płóciennik |
| Editing: | Jarosław Barzan |
| Cast: | Andrzej Chyra, Urszula Grabowska, Arkadiusz Jakubik, Eliza Rycembel, Tomasz Ziętek, Dorota Kolak |
| Production: | Leszek Bodzak |
| Producer: | Aurum Film |
| Distribution: | Kino Świat |
| Awards: | MFF w Szanghaju / Shanghai IFF – Grand Prix (2015); Festiwal Filmów Polskich "Wisła" w Moskwie / The "Vistula" Festival of Polish Films in Moscow – Nagroda Publiczności / Audience Award (2015); The New York Polish Film Festival – Nagroda im. Elżbiety Czyżewskiej dla najlepszego aktora / The Elżbieta Czyżewska Award for Best Actor (2015) |
Jacek Lusiński was born in Pabianice, in 1969. In 1997, he graduated from the Film and Television Direction Department, at the Lodz Film School. He makes feature films, documentaries, TV commercials, and video clips. He has also written a book titled "Carte Blanche", which was published in 2015.
Filmography:
2015 – Carte Blanche
2009 – Piksele / Pixels
2007 – Wrzesień 1939 / September 1939