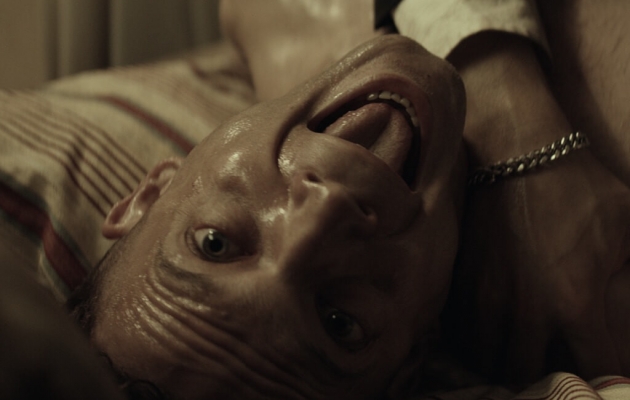 Screenings
25 October, 19:30 · Od Nowa – new hall
Piotr or Python, as his friends call him, returns to Poland from England to marry beautiful Żaneta. He intends to start a family nest in an old house that he has received as a gift from his future father-in-law. His plans get complicated, though, when, on the eve of his wedding day, the man finds human remains, buried nearby the property. As the remains are being examined, an unfortunate accident occurs. Piotr is unconscious and when he wakes up, his macabre discovery is gone and he has problems remembering the last few hours of his life. In the meantime, his wedding ceremony commences. All the guests invited to the ceremony, including Jasny, Żaneta's brother, in particular, realise that there is something seriously disturbing about Piotr's behaviour...
| | |
| --- | --- |
| Director: | Marcin Wrona |
| Screenplay: | Marcin Wrona, Paweł Maślona |
| Music: | Marcin Macuk, Krzysztof Penderecki |
| Cinematography: | Paweł Flis |
| Editing: | Piotr Kmiecik |
| Cast: | Itay Tiran, Agnieszka Żulewska, Andrzej Grabowski, Tomasz Schuchardt, Katarzyna Herman, Adam Woronowicz |
| Production: | Marcin Wrona |
| Producer: | Magnet Man FIlm |
| Distribution: | Kino Świat |
| Awards: | FF w Gdyni / Gdynia FF – udział w konkursie głównym / Participation in the Main Competition (2015) |
Marcin Wrona (1973–2015) was a film, theatre, and TV director and screenwriter. He was a teacher at the Department of Directing of the Krzysztof Kieslowski Faculty of Radio and Television University of Silesia in Katowice and at the Department of Screenwriting of the Jerzy Has Krakow Film School. He was a member of the Polish Film Academy and the European Film Academy. Marcin Wrona was also involved in directing theatre plays. In 2004, he directed Bedbound by Edna Walsh for Teatr Rozmaitości in Warsaw, and in 2013 the Chopin Must Die musical, which was performed simultaneously in Warsaw and London.
Selected Filmography:
2015 – Demon
2010 – Chrzest
2009 – Moja krew