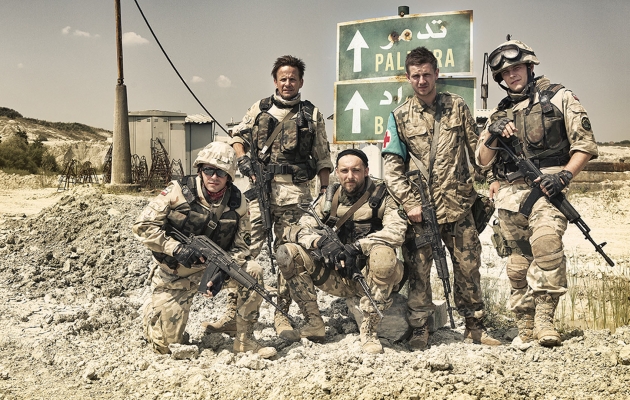 Screenings
23 October, 19:00 · Od Nowa – new hall
These were four days spent in hell... in the Iraqi city of Karbala. The year is 2004, and we are right in the middle of the Persian Gulf War. The Day of Ashura — the most important holiday in the Islamic world — is about to start. Militant groups from al Qaeda and hit squads of Muktada as-Sadr make an assault on the City Hall — headquarters of local authorities and the police, which also serves a prison for arrested terrorists. Their successive frenzy attacks are repelled by 80 soldiers from Poland and Bulgaria, who have supplies and ammunition that will last for only 24 hours. They have no contact with their headquarters and nobody knows, if and when support will come. Having used nearly all ammunition and being on starvation rations, they kill over 100 assailants without losing any of their own soldiers. This way, they have won the greatest Polish battle since WWII.
| | |
| --- | --- |
| Director: | Krzysztof Łukaszewicz |
| Screenplay: | Krzysztof Łukaszewicz |
| Music: | Cezary Skubiszewski |
| Cinematography: | Arkadiusz Tomiak, Łukasz Bielan |
| Editing: | Michał Czarnecki |
| Cast: | Bartłomiej Topa, Antoni Królikowski, Hristo Shopov, Atheer Adel, Leszek Lichota, Michał Żurawski |
| Production: | Włodzimierz Niderhaus |
| Producer: | Wytwórnia Filmów Dokumentalnych i Fabularnych |
| Coproducer: | Agora S.A., Telewizja Polska, Canal+ Polska, Studio Produkcyjne Orka, Miramar Film |
| Distribution: | Next Film |
| Awards: | FF w Gdyni / Gdynia FF – udział w konkursie głównym, Złoty Kangur – nagroda dla producenta filmu / Participation in the Main Competition, Golden Kangaroo – Film Producer Award (2015) |
Krzysztof Łukaszewicz was born in Szczecin, in 1976. He has graduated from the Department of Economics and Management at the University of Szczecin, and from the Faculty of Journalism and Political Studies at the University of Warsaw. He is a member of the Polish Film Academy. His Lynch won the Grand Prix at "The Young and Cinema" Koszalin Debut Film Festival. His next film production Viva Belarus! was highly acclaimed, among others, at film festivals in Gdynia, Istanbul, Vienna, and Brussels.
Selected filmography:
2015 – Karbala
2012 – Żywie Biełaruś! / Viva Belarus!
2010 – Lincz / Lynch