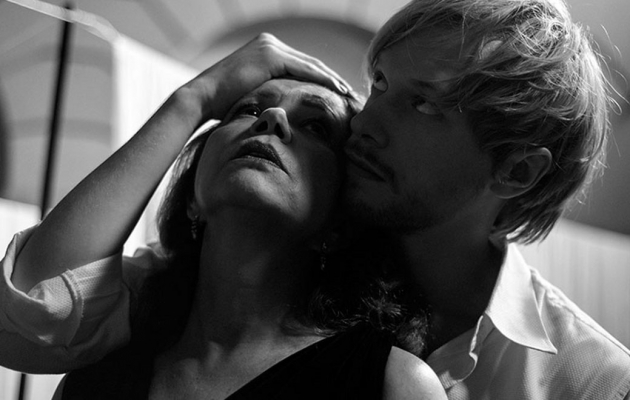 Screenings
21 October, 20:00 · Kino Centrum
The story in the film takes place on the Walpurgis Night of 30th April 1969, in a Swiss opera house, shortly after the end of the Turandot opera by Giacomo Puccini. The great opera singer Nora Sedler leaves the stage, just as the lights go down. Robert, a twenty-something modest journalist, is waiting for her at the door of her dressing room to have an interview with the artist, as arranged. Nora, who behaves as impulsively and uncontrollably, as she was the legendary Maria Callas herself, throws him out the door, but eventually agrees for an interview. However, she plays a very subtle game with him from the very beginning, constantly drawing him closer to her and then pushing him back. The air is full of erotic tension. Cautious at first, Robert finally agrees to play this game.
| | |
| --- | --- |
| Director: | Marcin Bortkiewicz |
| Screenplay: | Marcin Bortkiewicz, Magdalena Gauer |
| Music: | Marek Czerniewicz |
| Cinematography: | Andrzej Wojciechowski |
| Editing: | Piotr Mendelowski |
| Cast: | Małgorzata Zajączkowska, Philippe Tłokiński, Monika Mariotti, Mieczysław Gajda |
| Production: | Sebastian Petryk |
| Distribution: | Aurora Films |
| Awards: | Festiwal "Młodzi i Film" w Koszalinie / "The Young and Cinema" Koszalin Debut FF – Nagroda za scenariusz, Nagroda za rolę kobiecą, Nagroda Dziennikarzy, Nagroda Publiczności / Award for Screenplay; Award for Female Character, Journalists' Award, Audience Award (2015); FF w Gdyni / Gdynia FF – Złoty Klakier, Nagroda Jury Młodzieżowego / The Golden Clapper Award, Young Jury Award (2015) |
Marcin Bortkiewicz was born in Słupsk, in 1976. He is a film and theatre director, screenwriter, playwright, and actor. He has graduated from the University of Gdansk and Wajda School. He is a member of the Polish Filmmakers Association. He has been involved with the "Rondo" Theatre in Słupsk. In the years 2005–2007, he worked as an actor and director at the Wojciech Bogusławski Theatre in Kalisz. He also cooperates with other theatres.
Filmography:
2015 – Noc Walpurgi / Walpurgis Night