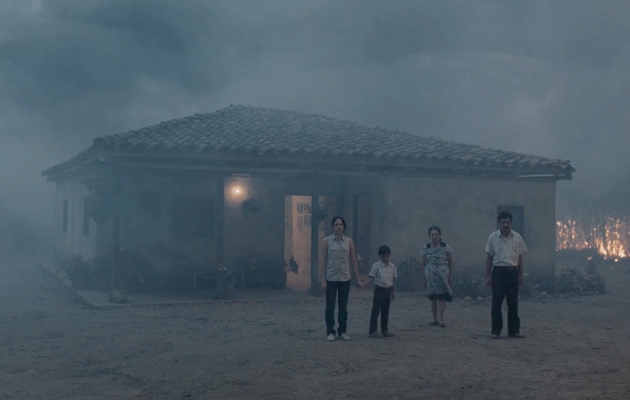 Screenings
23 October, 15:00 · Od Nowa – large hall
Alfonso is an old farmer who has returned home to tend to his son, who is gravely ill. He rediscovers his old house, where the woman who was once his wife still lives, with his daughter-in-law and grandson. The landscape that awaits him resembles a wasteland. Vast sugar cane plantations surround the house, producing perpetual clouds of ash. 17 years after abandoning them, Alfonso tries to fit back in and save his family.
| | |
| --- | --- |
| Director: | César Augusto Acevedo |
| Screenplay: | César Augusto Acevedo |
| Cinematography: | Mateo Guzmán |
| Editing: | Miguel Schverdfinger |
| Cast: | Haimer Leal, Hilda Ruiz, Marleyda Soto, Edison Raygosa, José Felipe Cárdenas |
| Production: | Jorge Forero, Paola Andrea Pérez, Diana Bustamante Escobar |
| Producer: | Burning Blue |
| Awards: | MFF w Cannes / Cannes IFF – Nagroda France 4 Visionary, Złota Kamera, nagroda Grand Golden Rail, nagroda SACD / France 4 Visionary Award, Golden Camera, Grand Golden Rail, SACD Award, Critics Week Grand Prize: nominated (2015) |
César Augusto Acevedo (b. 1987, Colombia) is a member of the youngest generation of Latin American filmmakers. He studied at university in Cali, graduating with a screenplay for his feature-length debut Land and Shade (2015). Previously, Acevedo had made two short films. He also co-wrote the screenplay and worked as assistant director on The Mushroom (2014), which won the Special Jury Prize at Rotterdam, and was production assistant on Crab Trap (2009), which won the FIPRESCI Award at the 2010 Berlinale.
Filmography:

2015 – Land and Shade / La Tierra Y La Sombra