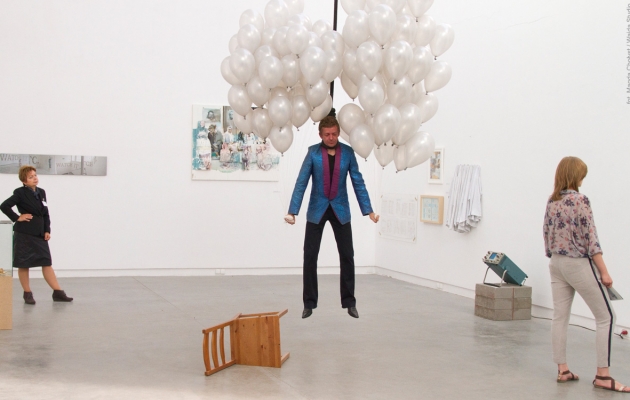 Screenings
21 October, 20:30 · Od Nowa – large hall
Performer is a story about an artist, who is looking for his own place in the world of today, permeated with punk rock energy. The protagonist here is Oskar Dawicki, one of the most unique and fascinating modern artists, who portrays himself in the film. We meet him at a critical point, when his Mentor (Zbigniew Warpechowski) is dying. Warpechowski is also the master of Najdroższy (Andrzej Chyra), Oscar's childhood friend and now also his rival, who has decided to go deeper into mainstream art and has been very successful financially. In addition, Dawicki has quite complicated relationship with Galerzystka (Agata Buzek), who is both his art dealer and lover. Performer is a mixture of performance art, acting, documentary photography, and narration: the art of Oskar Dawicki, as presented on screen, operates not only in time and space, but also in the way it is described, and in the drama witnessed by the audience.
| | |
| --- | --- |
| Director: | Michał Sobieszczański, Łukasz Ronduda |
| Screenplay: | Maciej Sobieszczański, Łukasz Ronduda |
| Music: | Antoni Komasa-Łazarkiewicz |
| Cinematography: | Łukasz Gutt |
| Editing: | Rafał Listopad, Mateusz Romaszkan |
| Cast: | Oskar Dawicki, Agata Buzek, Andrzej Chyra, Zbigniew Warpechowski, Jakub Gierszał, Anda Rottenberg |
| Production: | Kuba Kosma, Wojciech Marczewski, Wajda Studio |
| Distribution: | Solopan |
| Awards: | Berlinale – Nagroda "Think: The Award" w sekcji "Forum Expanded" / The Think Film Award in the Forum Expanded section (2015) |
Michał Sobieszczański is a screenwriter, playwright, and director. He is an expert working for the Polish Film Institute, a teacher of the Development Lab programme and the new SCRIPT Screenwriting Programme at Wajda School, as well as a teacher at the Directing Department of the Lodz Film School.
Lukasz Ronduda is a curator at the Museum of Modern Art in Warsaw and the initiator of the Filmoteka Muzeum project. He is also a university teacher holding a PhD degree, who gives lectures and seminars on the history of art, aesthetics, history and theory of film, at educational institutions in Poland and abroad, including Princeton University and Columbia University in New York.
Filmography: