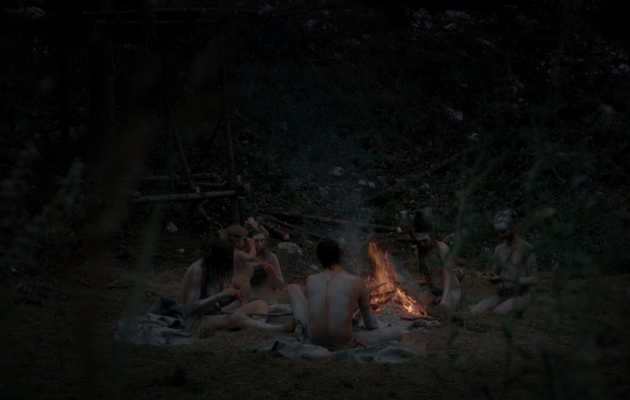 Screenings
19 October, 20:00 · Kino Centrum
There is a lost tribe living on the edge of civilisation. The Conteheli have blue eyes that look like flax, and also flaxen dreads, and young bodies. They look like the fulfilment of a hippie fantasy about a return to nature or a Slavic version of the characters from Avatar. These forest people live, as if they were in paradise, but this perfect world is crushed, when civilisation knocks on its door — it has the form of an officer working for a railway company: Walser. Regardless of the fact that he is doing all in his power to blend into their world and learn the incomprehensible language they speak, all Walser has to offer is chaos and destruction. The carefully stylised world of Walser flirts with the tradition of genre cinema: a post-apocalyptic science-fiction film, westerns, or films about cave dwellers, in all of which there was no conflict between primitivism and "glamour". Libera uses the clichés of genre cinema as building blocks to create a multi-level jigsaw, using literary figures of paradise lost, philosophical and counter-culture concepts of a utopian community, or phantasms about the end of civilisation.
| | |
| --- | --- |
| Director: | Zbigniew Libera |
| Screenplay: | Grzegorz Jankowicz, Zbigniew Libera |
| Music: | Robert Piotrowicz |
| Cinematography: | Adam Sikora |
| Editing: | Beata Walentowska |
| Cast: | Krzysztof Stroiński, Gustaw Klyszcz, Joanna Wiktorczyk, Andrzej Borowski, Dagny Borowska, Gaja Borowska |
| Production: | Agata Szymańska, Magdalena Kamińska |
| Producer: | Balapolis |
Zbigniew Libera (born in 1959) is one of the most interesting and significant Polish artists. His artistic work, including photographs, video films, installations, objects, and sketches, play with the stereotypes of modern culture, in an incisive and intellectually perverse manner. His shocking video work from the 1980s (including, for example, Intimate Rites and Mystical Perseverance) were ahead of 'body' art by 10 years. In mid-1990s, Libera started creating Correcting Devices, i.e. objects that are modifications of already existing products, intended for mass consumption. In recent years, he has been mostly involved in photography, in particular the specific nature of press photography.