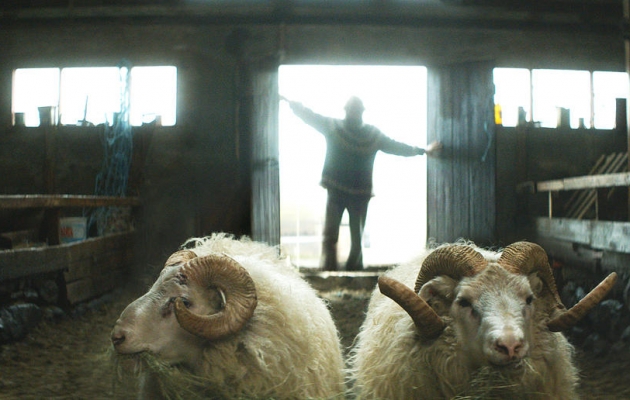 Screenings
20 October, 19:00 · Kino Centrum
In a secluded valley in Iceland, Gummi and Kiddi live side by side, tending to their sheep. Their ancestral sheep-stock is considered one of the country's best and the two brothers are repeatedly awarded for their prized rams who carry an ancient lineage. Although they share the land and a way of life, Gummi and Kiddi have not spoken to each other in four decades. When a lethal disease suddenly infects Kiddi's sheep, the entire valley comes under threat. The authorities decide to cull all the animals in the area to contain the outbreak. This is a near death sentence for the farmers, whose sheep are their main source of income, and many abandon their land. But Gummi and Kiddi don't give up so easily — and each brother tries to stave off the disaster in his own fashion: Kiddi by using his rifle and Gummi by using his wits.
| | |
| --- | --- |
| Director: | Grímur Hákonarson |
| Screenplay: | Grímur Hákonarson |
| Music: | Atli Örvarsson |
| Cinematography: | Sturla Brandth Grøvlen |
| Editing: | Kristján Loðmfjörð |
| Cast: | Sigurður Sigurjónsson, Theodór Júlíusson, Charlotte Bøving, Jon Benonysson, Gunnar Jónsson |
| Production: | Grímar Jónsson |
| Producer: | Netop Films |
| Coproducer: | Film Farms, Aeroplan Film, Profile Pictures |
| Distribution: | Gutek Film |
| Awards: | MFF w Cannes / Cannes FF – Nagroda w sekcji Un Certain Regard / Un Certain Regard Award (2015); MFF w Transylwanii / Transilvania IFF – Nagroda publiczności, Specjalna nagroda jury / Audience Award, Special Jury Award (2015) |
Grímur Hákonarson was born in 1977. He graduated from FAMU — Film Academy of Performing Arts in Prague in 2004. His graduate film, Slavek The Shit, was the first film that got international attention. It was selected to the Cinéfondation section of Cannes FF 2005. His next short film, Wrestling, premiered in Locarno FF 2007 is one of the most successful short films from Iceland. It won 25 festival prizes around the world.
Filmography:
2015 –

Rams / Hrútar
2010 – Summerland / Sumarlandið