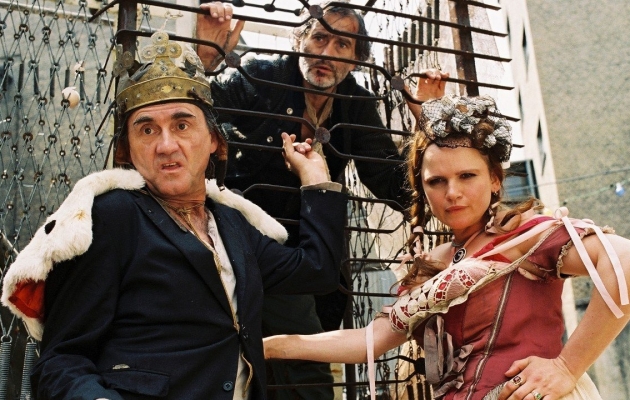 Screenings
19 October, 21:45 · Od Nowa – new hall
By adulating scum and buttering influential people up, Ubu takes control over the country, in a bloody coup, using the slogans of freedom and democracy. His mindless and merciless rule serves only one purpose: to collect as much wealth, as possible. He introduces absurd reforms, citizens become poorer and poorer, and the State Treasury turns out to be empty. Surrounded by flatterers, Ubu cranks up the spiral of terror. He goes for war against the Russian tsar, instigated by ambassadors of foreign countries. This endeavour is a disaster, and the king and his wife are exiled by the people. Tsar comes to the capital. There, together with the ambassadors, he elects a new queen, who is expected to become a puppet controlled by the tsar.
| | |
| --- | --- |
| Director: | Piotr Szulkin |
| Screenplay: | Piotr Szulkin |
| Cinematography: | Dariusz Kuc |
| Editing: | Elżbieta Kurkowska |
| Cast: | Jan Peszek, Katarzyna Figura, Marek Siudym, Jerzy Trela, Bogdan Kalus, Maria Ciunelis, Maria Pakulnis |
| Awards: | FPFF w Gdyni / Gdynia FF – Złote Lwy: Najlepsza rola kobieca / Golden Lions: Best Female Role (2003); Orły / Eagle Awards – Najlepsze kostiumy / Best Costumes (2005) |
Piotr Szulkin was born in 1950. He is a film director, screenwriter, set designer, and writer. He graduated from the Lodz Film School, in 1975. He started making documentaries in 1975, and full-feature films in 1977. He collaborates with Polish television and is an author of science-fiction stories. In 1994, he started working as a teacher at his Alma mater.