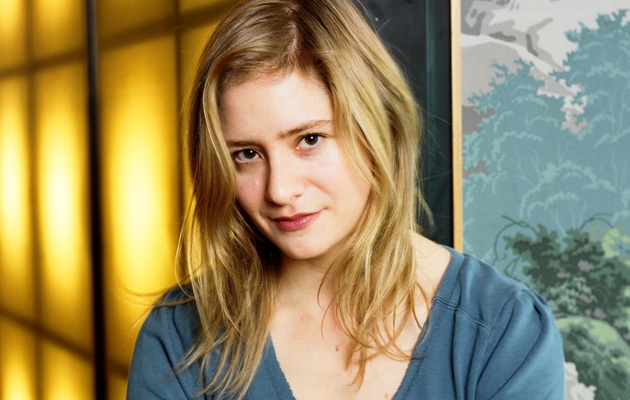 HIT OF THE DAY! Today, at 7.30 PM, in Theater Baj Pomorski Julia Jentsch will receive a Special Golden Angel Award! Winner of Silver Bear Award from Berlinale and European Film Award now gets a prize of Toruń Film Festival!
June 26, begins in Toruń Tofifest International Film Festival. This is one of the biggest summer film events in the country. This year, among its guests will be: Berlinale Silver Bear winner Julia Jentsch, the star of contemporary art Shirin Neshat, and deriving from Toruń, Bogusław Linda. In 23 film, music and art bands we will see over 150 films. In festival's main competition – ON AIR – from this year starts debuts and second films of directors from all over the world. The best will win the Tofifest Golden Angel.
The eighth edition of the festival takes place under the slogan "Because everyone has a rebel inside". And indeed, Toruń festival wants to show films that take part in the discussion of contemporary man and his world. Films which do not avoid difficult topics. The main competition of the festival is international ON AIR. This year in this contest will take part only debuts and second festure films. Most of them will have Polish premiers on Tofifest. We wiull see visually impressive "Altiplano" directed by Peter Brosens and Jessica Woodworths (Belgium-Germany-Netherlands, Polish premiere), a historic mural about Iran and Islamic women "Women without Men" directed by Shirin Neshat (France-Germany, Polish premiere and a film about dark face of Georgia "Street Days" directed by Levan Koguashvili (Georgia, Polish premiere). There will also be "First of all, Felicia" directed by Razvan Radulescu - Melissa de Raaf duo (Romania 2009), "10 to 11" directed by Pelin Ester (Turkey-Germany-France, Polish premiere) and "To the Sea" directed by Pedro González-Rubio (Mexico, Polish premiere). Competition bid also includes "Francesca", the second picture in the contest from Romania, directed by Bobby Paunescu, and "Eyes Wide Open" directed by Haim Tabakmana from Israel (Israel-France-Germany, Polsih premiere).
The second contest in which will be distributed a Golden Angel is a summary of international short films SHORTCUT. In this competitions will appears 35 films from 21 countries. The third is Polish competition FROM POLAND with such films as "Różyczka" directed by Jan Kidawa-Błonski, "Enen" directed by Feliks Falk and Jack Borcuch "Everything I Love".
Everyday Toruń festival will be visited by true film stars. On the opening ceremony will come Julia Jentsch. Berlinale Silver Bear and European Film Award winner will receive a Special Golden Angel for the emerging talent of European cinema. American-Iranian artist Shirin Neshat in Torun will announce her directing debut, "Women without Men" for which she received the Silver Lion in Venice. Polish film star Bogusław Linda, in his native Toruń, will receive a Special Golden Angel for Artistic Unyielding. There will be also Alvaro Pastor – director of loud "Me too!" – Katarzyna Rosłaniec, Marian Dziędziel, Wojciech Smarozwski, Jacek Borcuch, Mateusz Kościukiewicz, Pawewł Borowski, Levan Koguashvili, Anna Polony and many other.
Among interesting bands of this edition will certainly be a film retrospective of the Greek-French rebel Costa Gavras, winner of Oscar for blueprint of political thriller "Z". There will also be the first in Poland band of camp films – Camp Not Dead with retrospective of English visionary Ken Russell and Polish Camp. It is worth to mention about the first in the country rapprochement to the New Cinema of Georgia.
During the festival will also take place an important events of the world film. Guests will sit by a round table devoted to European cinema during Cultural Exchange band. Among them will be representatives Brno 16 and Cinefest festiuval and the Slovak Film Institute and the famous Slovak director Dusan Hanák. There will also be a conference of the National Board of Audiovisual Producers and the Polish Film Institute supporting the Tofiefst efforts for the assumption Kujawsko-Pomorskie Regional Film Fund.
But Tofifest in not only films. Among the Gothic buildings, at the Old Town market, will resound film music during Go Upstream concert, June 30. But nn the rebel festival we will not play normal tracks from movies. In O.S.T.R., Mosquito, Dick4Dick and punk legend – Dezerter performance we will hear a songs from the Polish films "Galerianki", "Moja Krew", "Wszystko Co Kocham". Every day, in an alternative festival club Enerde will also play sound systems and DJ's e.g. the Big Fat Mama and Daniel Bloom. Very big event will be also show from the borderline of experimental performance art, film, music and science – Institute B61: Operation Slapstick. During it in one of the abandoned factories in Toruń artist-researchers from the Institute will present, those who gain entrances, dark secrets of cinema.
Tofifest also prepared something for the children. Band of creative film education "Filmogranie" already before the festival had its first chords. During the festival will be create short musical prepared by children together with the curators of Centre of Contemporary Art in Toruń.
Tofifest International Film Festival will be held from June 26 to July 2 in the cinemas of the UNESCO protected Old Town of Toruń, the Center of Contemporary Art and the modern Theatre Baj Pomorski.