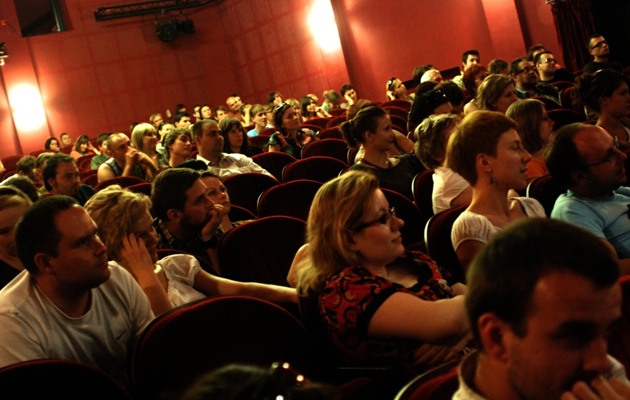 Meeting with David Marcinkowski, Kino Centrum
Interactive, online. "Sufferrosa" by Dawid Marcinkowski
"Sufferrosa" was not an easy film. Someone can even say that in principle it was no a film in 100%! So, what we saw during the fourth day of Tofifest in Kino Centrumr? We tried to find the answer at the director of this…
– …happening? – "This is an experimental audio-visual project, in which I use the narrative forms from XXth century. This is a satire on the cult of beauty and youth" – explained Dawid Marcinkowski.
"It is unusual for me to be able to present again to audience 'Sufferrosa'. Exactly one year ago, during the festival 'Pole widzenia', here in the Centre of Contemporary Art my project had its premiere" – said Marcinkowski who, incidentally, finished his studies at the Arts Faculty in Toruń.
"Sufferrosa" is a project which was created by a relatively long time. In 2000, the director had the idea of "doing" (we use that word intentionally) something from the border of the film, comics, computer games, interactive and online presentation, in which anyone can direct the development of action by using only a cursor: "Anyone can visit site www.sufferrosa.com and decide about the story course by selecting from 120 scenes, involving 25 actors". A cast, as a non-profit project is quite impressive: in 90 minute "film" in various configurations scroll such names as Szykulska, Urbaniak, Federowicz and Tyszkiewicz. "I realized that when I am doing alternative and niche project I have to found well-known names to draw media attention to it. Everyone, with whom I spoke, talked about the project with enthusiasm. I am pleased that they agreed to play for free. If you have an idea and you are determined, you can achieve very much". Inspirations? "All inspirations you can see. These high and these low. Sometimes I took the camera and record from the You Tube, I even ripped films from mobile phone. But the most important inspiration for me was a Polish film by Wojciech Has, otherwise the strangest and in result completely misunderstood and underestimated in Poland – 'The Saragossa Manuscript".
"Sufferrosa" is a very contemporary project, which uses things shaping young generation: Internet, games… The important thing is also the future of this type of interactivity in the film. Dawid Marcinkowski believes that ingratiation the latest technologies to the art of filmmaking is inevitable: "Many creative strategies will come into existence, but it is a matter of a few years. Line between fiction and reality has to become invisible".
Meeting with Olga Frycz and Mateusz Kościukiewicz, Baj Pomorski
"All that I Love" in Toruń
Announcing, projection, applause. After that Olga Frycz came into scene, after a while late Mateusz Kościukiewicz appeared – this is how began one of the most rebellious meetings of festival!
"In Polish press appeared opinions which criticized that in the film is not enough images of PRL horror, in turn, in the U.S. drew attention only love and music" – said Olga Frycz about the film "All that I Love" which actually is on the line between species and the rebellion is not focused on the constitution – it is a youthful and all-encompassing. But everything in sequence.
Strength of the film is primarily youth: Frycz Kościukiewicz, Giersz, Banasiuk, Obłoza, the great Michał Englert pictures and music composed by Daniel Bloom. The film tells the story of a group of friends, adolescents who experience their first love and rebellion. They seek fulfillment in music and try to cope with a gray and difficult reality. "Jacek Borcuch at once told us that the eighties are only a background. It has not supposed to be a historical film" And indeed it is not. This is a thoroughly contemporary and universal. "People in their forties tell us that this is a film about their generation, but young people indicate that it is a film about them" – said the young actress.
Olga, who already has had leading roles on the silver screen, e.g. "Weiser" directed by Wojciech Marczewski, "Boże skrawki" directed by Jurek Bogajewicz said: "For the boys it was a debut. I already had my debut, but I treat this film as the most important – it opened a lot of paths to me" – in September we will see Frycz in "Dance Marathon" directed by Magda Łazarkiewicz and Maciej Kowalewski, and since September, betrayed during a meeting Olga, she begins work on two scenarios.
Meanwhile on stage ran a little late Mateusz Kościukiewicz. "Just now I am realizing one of my dreams and I will play a concert together with Dezerter. I come back from a small sample" – said really touched Kościukiewicz – "Although I had never sung professionally, guys from Dezerter advised me that it is not as important how I sing, it is important to yell". More or less, this punk and rebellious nature had a meeting, since came on it this promising young, charismatic actor of the New Theatre.
We can confidently say: Tofifest fulfills dreams! Mateusz sang together with Dezerter in the heart of Toruń. Delighted audience did not let him to leave the stage. In short: the first movie, the first concert with Dezerter, the first encore – "All that I Love".
Meeting with Wojciech Smarzowski and Eric Lubos, Baj Pomorski
Without beautiful faces
"When I created 'Dom Zły' I opined that mankind is in bad shape. (…) I provoke with my film. So, does it hurt?" – with these strong words director, Wojciech Smarzowski addressed to the audience after the projection of his film "Dom Zły". At the outset, the director received praise for refinement of his distinctive style. The film was appreciated and noticed at the various festivals in different countries. Work on the script was very long – "12 years took me work on this film. I am happy. I managed to create a really good movie, with such a normal, standard budget" – said Wojciech Smarzowski.
Another guest at the meeting was the actor who played in "Dom Zły" – Eryk Lubos. Lubos deliberately provoke the audience during the meeting, arguing that he saw the Shakespearean character in this film. He stressed the role of today's media and the way of receiving their transmission by us. "Beautiful faces from TVN – we love them! I also love them. I am sorry to observe this mad rush for possession in a modern world" – he said. Smarzowski joined into this conversation: "I steal, spy, preview – this is a task which I set for myself. So long observation lead to the conclusion that I like the faces on which life is written. Faces which show how many people experienced in life. Such deep analysis helps me when I select actors for my projects. I do not like black and white situations. My job is public intellectual provocation".
At the end of the conversation Lubos stressed the important role of "Dom Zły" and the fact how it should affect for people – "When I first time watched this movie I made a private examination of conscience. This film should bring down to it!". Creators heard many warm words from audience, which thanked for many things, inter alia, for the loyalty and details attention in images from the PRL era.
The end of the meeting brought quite shocking summary of Wojciech Smarzowski creations: "These films have physiological nature. Physiologically act on the viewer". The director did not protest.
Meeting with Katarzyna Rosłaniec, Baj Pomorski
"You have to party and do not get used…" – "Mall Girls" on Tofifest.
One of the loudest films of last year. At the moment of appearance on the screens unleashed a real storm. Everyone wondered whether the story showed by Katarzyna Rosłaniec is true and do you can talk about "mall girls" as a social phenomenon. No one supposed that this shocking story of several teenage girls could happen. On Friday Tofifest audience had an opportunity to talk with the director and ask her some questions after the film.
The first and very obvious question in this situation concerned circumstances of film origin. "My film was based on the etude, which I created under the credit in college. Etude in turn was based on the document, which I saw on television. It told about a girl who wanted a new mobile phone and she started to look for so called 'the sponsor' to get it. When I saw it, I just sat down with the impression. I did not realize that something like this could happen. Thanks to etude recording I knew that it would be easier when I decide to make feature film".
However, very often director needs something more than idea and script to create an authentic film. Very important are also the details that make up the whole and impress the viewer. Therefore, everyone was curious about how Katarzyna Rosłaniec created so realistic film. "I talked with many girls who had not told me directly about themselves but about their friends. It turned out that this phenomenon is well-known for young people. I also visited the websites as Milena and then I tried to talk with 'mall girls'. Thanks to it characters in my film speak the same language".
Katarzyna Rosłaniec film received very good reviews but also became the subject of criticism. Tofifest audience also had some concerns about film's remittance. "Are you not afraid that this film becomes some kind of manual for teens?" – asked someone from the audience. The director replied without hesitation: "I am not afraid, because I believe that this film is done so realistically that it is a warning, not permission".
Katarzyna Rosłaniec in "Mall Girls" shows not only the phenomenon but also the reasons of this kind of situation. "This is a film about the lack of relationships in the family. About the lack of love and conversation. We have to deal with this in eighty percent of Polish families".
At the end we were curious about Katarzyna Rosłaniec plans after such successful debut. "I am at the stage of casting for the next film. This will be a story about teenager who becomes pregnant because she dreamed about child. I will try to show again some kind of phenomenon. But this time I have a much better script".