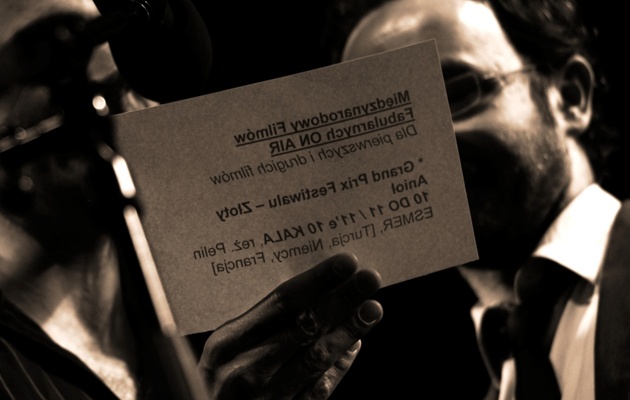 An intimate, leisurely film of Turkish director Pelin Esmer "10 to 11" won the Grand Prix – Golden Angel of this years' Tofifest. The international Jury acknowledged Romanian Bobby Paunescu as the best director. In the contest of short films ShortCUT won for the first time girl from Poland – Katarzyna Klimkiewicz with her "Hanoi and Warsaw". FROM POLAND Polish competition won "Dom Zły" directed by Wojciech Smarzowski. Favorite movie of rebellious Tofifest audiences became Georgian "Felicita".
Nearly 200 projections, 6 days, 5 screens, 23 art and film brands, thousands of spectators. gości Shirin Neshat, Julia Jentsch, Bogusław Linda, Robert Gliński, Wojciech Smarzowski, Levan Koguashvili, Razvan Radulescu, Eryk Lubos, Anna Polony, Alvaro Pastor, Wojciech Marczewski and many others among the guests. The most interesting concert of Polish film songs from recent years with the stars such as Dezerter and O.S.T.R.. Mystic, of cinema Institute B61, weekly creative workshops for children Filmogranie and so on. Tofifest 2010 which main motto was "Because everyone has a rebel inside" was officially ended.
The most important competition of the festival was ON AIR which presented the first and second films of directors from all over the world.
Grand Prix – Golden Angel of Tofifest 2010 received Turkish "10 to 11" (11e 10 kala, prod. Turkey, coprod. Germany-France, 2009). At Tofifest was held Polish premiere of this feature debut of acclaimed and award-winning in the world Turkish documentary Pelin Esmer. The 5000 euros prize was funded by Piotr Całbecki, the Marshal of Kujawsko-Pomorskie. The film is the story of a passionate collector Mithat and the concierge of the building, Ali, which takes place in the backdrop of the great Istanbul. The Variety critic wrote The Variety's critic wrote: "surprisingly charming intimate portraits of 83-year-old anal-retentive Turkish men. An unassuming quasi-documentary homage to both the director's grandfather and the Istanbul around which the story purposefully wanders". The director built Mithata's figure based on memoir of Mithata Esmer – her own grandfather, who also starred in the role of the old collector.
Silver Angel and Best Director title received for Romanian Bobby Paunescu with his film "Francesca". FRANCESCA. Francesca is 30 years old and she works as a teacher at a kindergarten in Bucharest. Her parents have split up many years ago and she now lives with her mother, Ana. In a country still under the spell of the Western Dream and the mirage of working abroad, Francesca longs to immigrate to Italy. But soon she begins to understand that perhaps it can cost her too much.. The prize, worth 5000 euros, funded Agnieszka Odorowicz, the Director of Polish Film Institute.
Beyond statue Jury adjudged two more awards. Special award for outstanding actor creation received Orsolyi Toth from Hungary for her role in a filmWomen Without Men, directed by Shirin Neshat.
The second award rambled to "Altiplano" directed by Peter Brosens and Jessica Woodworths duo. Powerful, sublime, visually beautiful film – wrote about this film a critic of the French Le Soir. The film collide the stories of two very different women – European war reporter Grace and Saturnina, Peruvian Indian from the Quechua people.
Juy of ON AIR competition was submitted from: Spanish director of loud Yo Tambien!/Me to!, Alvaro Pastor, co-founder of the program of the festival in Rotterdam Rik Vermeulen, originated from Toruń actress Olga Bołądź , well-known documentaries creator Jacek Bławut and film expert and co-creator of magazine Ha!Art Piotr Marecki.
Golden Angel also went to the winner of the ShortCUT International Competition. Jury decided to award the Polish girl – Katarzyna Klimkiewicz for Hanoi–Warsaw (Poland, 2009). It is a film about a young Vietnamese girl who lands in Poland by green boarder. In Warsaw are waiting her fiancé, a better life and dreams fulfillment. Mai Anh travel across Poland is a journey through the hell of humiliation and violence. The jury appreciated the fact that young director in a gentle and mature way told the thrilling story of the journey of two Vietnamese to their promised land in Warsaw.
Jury gave also a special award for documentary film "Marysina Polana" directed by Grzegorz Zariczny as a warm story about male friendship.
Jury of ShortCUT competition was submitted from: actress Małgorzata Buczkowska, documentaries creator Pawel Łoziński and director David Marcinkowski.
FROM POLAND Polish competition is the domain of the viewer. They decide which Polish film appealed the most to their taste. This year's award went to the movie "Dom Zły", which received director Wojciech Smarzowski.
Tofifest also gave its traditional FLISAKI – special prize for the most interesting artists associated with the Kujawsko-Pomorskie region. The founder of the awards, since inception, is the president of Torun Michael Zaleski. It is oldest award for regional cinema at Polish festivals. This year Flisaki went to originated from Toruń actress Olga Bołądź (Skrzydlate Świnie, Piksele) and to Marcin Gładych, a renowned photographer who for several years produce independent films in Toruń. His last work is the already assembled film Hackers which tells about the first hackers of Toruń Solidarity who broke out in 1985 on the waves of the communist Dziennik TV.
Festival Audience Award for Tofifest most popular film won the Georgian image Felicita. It was the Polish premiere of directed by Salome Aleksi image which tells about Tamara, Georgian woman, who lives and works illegaly in Italy. Her husband dies in a car accident but her status doesn't allow her to reach Georgia. Unable to attend his funeral, she decides to participate to funeral ceremony via cellular call.
The last is Zygmunt Kałużyński Film Critics Award. Unyielding Tofifest adjudged trophy which honor the most controversial Polish critic since 2006, with the consent of heir, a famous film specialist Tomasz Raczek. This year the jury awarded film "First of all, Felicia". Award was received by directing duo Razvan Radulescu and Melissa de Raaf.
Next Tofifest on June 24 – July 1, 2011. See you in Toruń.
Because everyone has a rebel inside!
Tofifest 2010 Awards
ON AIR International Competition
Grand Prix – Golden Angel
10 TO 11 directed by Pelin ESMER [Turkey, Germany, France]
Silver Angel for Best directing
BOBBY PAUNESCU, Romania, FRANCESCA
Special Award for an outstanding film role
ORSOLYIA TOTH, Hungary, WOMEN WITHOUT MEN, directed by Shirin NESHAT
Special Jury Award
ALTIPLANO, directed by Peter BROSSENS and Jessica WOODWORTH [Belgium/Germany/Netherlands]
SHORTCUT International Short Films Competition
Golden Angel
HANOI-WARSAW [Poland], directed by Katarzyna KLIMKIEWICZ
Special Award
THE DOG HILL [Poland], directed by Grzegorz ZARICZNY
Main Award in FROM POLAND. Polish Competition
THE DARK HOUSE [Poland], directed by Wojciech SMARZOWSKI
Special Golden Angel For Artistic Insolence
Bogusław LINDA, actor and director
Critic Award of Zygmunt Kaluzynski
FIRST of ALL. FELICIA [Romania], directed by Razvan RADULESCU and Mellisa de RAAF
FLISAK TOFIFEST Award (Award of President of Torun
for artist/filmmaker from Kujawsko-Pomorskie region)
Olga BOŁĄDŹ, actress [PIXELS]
Marcin GŁADYCH, director [HACKERS OF FREEDOM]
Audience Award
FELICITA [Georgia], directed by SALOME ALEKSI