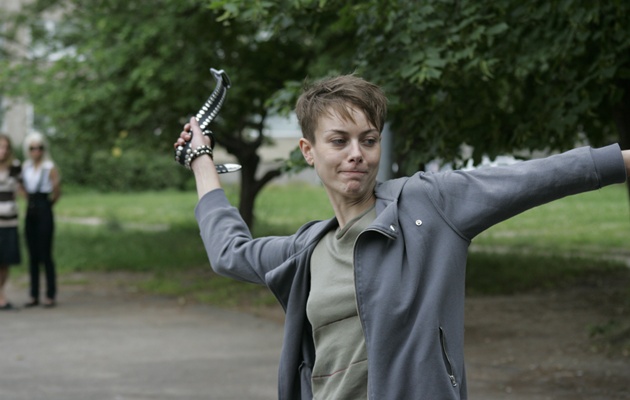 Mysterious and experimental — that's the Lithuanian way of cinema and it is the hero of the special programme prepared for Tofifest in cooperation with the Vilnius Film Festival "Kino Pavarsaris". The trends within the Lithuanian cinema will be presented in the most progressive section of the Torun Film Festival – Forward!, in order to underline the uniqueness of this still almost unknown cinematography in Europe.
Lithuanians – so close but so distant at the same time. Although we are neighbors, we still know little about their films. Thanks to the cooperation with Vilnius Film Festival "Kino Pavarsaris", in Torun we will have a unique opportunity to learn more about the latest trends in new Lithuanian cinema. "Nowadays, Lithuanian fiction films are mainly experimental. Young artists treat the image as expressive and intense individual imagination, where the story is barely discernible" – that's what Lithuanian critics write about cinema in their country.
In this panorama we couldn't forget about Šarūnas Bartas, who is the most popular Lithuanian director today. His "Eastern Drift" is a kind of love story of the Lithuanian gangster and the Russian prostitute with gang wars in the background. where and gangster Lithuanian Russian prostitutes against mafia games in Moscow. The film won the Silver Crane and Grand Prix at the FF Black Nights in Tallinn. Bartas likes documenting people from the Post-Soviet countries. He touches the most difficult feelings, tells us about people who cannot look ahead. Bartas's films are very aesthetic - by keeping dialogues in the background, he focuses almost exclusively on the faces, gestures and landscapes, creating a minimalist cinema.
We can find the atmosphere of a journey in the profoundness of the human ego, that is so characteristic for the Lithuanian film, in "Kolekcionierė / The Collectress" by Kristiny Buožytė. It is the story about a girl who after an accident lost the ability to feel human emotions. She discovers they come back while she watches herself on the camera on her computer screen. "The Collectress"  was awarded the Lithuanian Silver Crane for the best feature-length film and it took part in over 30 international film festivals.
"Anarchy in Žirmūnai" directorial debut of Saulius Drung realizes the main idea of Tofifest. Both are rebellious and insolent. This is an anarchist cinema which shows rebellion, homosexual feelings and two girls searching for their place in the earth. Film was presented in the official selection of the prestigious Moscow FF. "Anarchy in Žirmūnai" was awarded at Cannes in 2007 and it was the best debut of a year in Lithuania.
"Nuodėmės užkalbėjimas / Whisper of Sin" by Algimantas Puipa can surprise Polish  audience. We can find here an analogy to dark atmosphere of "Szamanka" by Żuławski. Film is based on the iconoclastic, Jurga Ivanauskaite's best-selling novel. There is a lot of sex scenes and magical rites in this mystical psychological drama.
Among the features we can also see: "Duburys / Vortex" by Gytis Lukšas, "Keturi žingsniai / Four Steps" by Audrius Stonys and "Traukinys stovi penkias minutes / Train stops for five minutes" by Giedrė Beinoriūtė.
Full of debuts section shorts promises to be very interesting. We can find here: "Kai ji vaikšto šalia / When she walk near me", which is a humorous parable about aging, loneliness and death, "2h_Dvi valandos / 2h_Two Hours" by Ramunė Čekuolytė, abou love Georgian girl and Lithuanian man, "Nevykęs scenarijus / Failed scenario" by Kristina Sereikaitė and Linas Mikuta, about waitress who found a wallet and many others.
New Serbian Cinema is also interesting and important theme of the festival. At the IFF Tofifest we can meet: Jim Sheridana, Jiri Menzel, Jerzy Stuhr, Grzegorz Królikiewicz, Dagur Kari, Robert Więckiewicz or Marta Żmuda-Trzebiatowska. Festival offers first Polish retrospective of Angry Young trend and three film competitions.