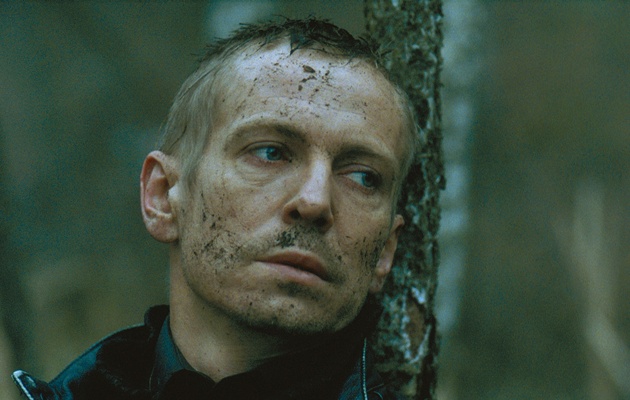 Monday 27th of July is a day of strong films taking place in "Infinite Russia". Those pictures were produced not only by Russians. The viewers of festival will have an opportunity to meet with Magdalena Boczarska, Robert Wiêckiewicz and Pawe³ Wojcieszek. The schedule of the day will be finished by a difficult topic – the future of local cinema in kujavia-pomerania region.
Three films. Three different points of view on Russia , three directors from different countries. The first one is "Siberia. Monamour" directed by Slavo Rossa which is taking part in the main competition ON AIR. This movie doesn't show us the gigantic expanse of Siberia, but the action is closed up in a grandson. This is the story about the situation when one loses everything that is important to him and about the factors that let one's survive that situation. This is the second picture of Ross who's been awarded many times for his short films as well as for his debut "Fat Stupid Rabbit". The presentation of "Siberia. Monamour" is a polish premiere.
The most prized film in the competition ON AIR is "My Joy" by Sergei Loznitsy (German, Ukrainian and Dutch coproduction). Although it's not a Russian movie, The Russian Guild of Film Critics chose it as a debut of the year 2010. The film got also Grand Prix on the festivali in Tallin, Minsk, Molodist IFF from Kijev and it was one of the pictures in the official selection in Cannes. The story about Gieorgij's journey, russian lorry driver, becomes quickly an universal, cruel story about contemporary Russia. Critics emphasized the tragic beauty of Loznitsy's picture: "The film about terrifying, inscrutable enigma of <russian soul>" was written in ArtCinema, when critic from "Le Monde" accentuated that "My Joy" cause a laugh through the bloody tears".
The most famous lithuanian director nowadays — Šar?nas Bartas propose completely different point of view on Russia. His "Eastern Drift" (Lithuania, France and Russia coproduction)is a love story lithuanian gangster and russian prostitute during the mafia battle in Moscow. Genia lives in Lithuania, but he do his business in Moscow with the local mafia.
He decides to stop it and emigrate to West, but before that he arrives one last time in Moscow to get his money. But there's someone waiting for him — Sasha, beautiful priostitute and his ex-lover... The film was awarded with the Silver Crane and Grand Prix on FF Black Nights in Tallin. Bartas belongs to the group of film who documents life of people and nations from post Sovetic Union. Such as Aleksander Sokurow or hungarian director Bela Tarr, he touches the most difficult emotions, he talks about people who don't know how to stop living in the past nor to face the future. Bartas' films are known for his sophisticated aesthetics — he transposes the center of attention from the dialogues through the faces, gestions and landscapes. Thanks to that he makes minimalistic cinema with the universal caracter.
The film that has its premiere here in Toruń is one of the elements of the interesting panorama of the New Lithuanian Cinema prepared in colaboration with Vilnius Film Festival "Pavasaris Cinema" that is presented in progressive section of the festival – Forward!
On Monday the Tofifest spectators will meet with another guests. Robert Więckiewicz and Magdalena Boczarska will talk about Jan Kidawa's film "Różyczka" taht takes part in From Poland competition, so as "Konfident" by Rafał Kapeliński, who will peet with thw viewers after the projection. Kapeliński is an laureate of cuyavian-pomeranian film award Flisak Tofifest 2006. Originally from Toruń, well-known for his picture "Emilka cries". "Konfident" practically was made in precincts of Toruń—Ciechocinek and Nieszawa. The most interesting seems to be the meeting with one of the rebellious polish directors Przemysław Wojcieszek after projection of his movie "Made in Poland".
The day will be summed up with the Localisations Panel – discussion about cuyavia-pomeranian films and the idea of Regional Film Fund. The meeting will promote the book about local cinema between 1897-2011. This monography was published this year by MFF Tofifest. It's an extraordinary book that discovers over 100 biographies of film makers kujawsko–pomorskim from the region. From the most known, such as Bogusław Linda, Grażyna Szapołowska, Jerzy Hoffmann, Kazimierz Karabasz, Leonard Pietraszak, through the new wave – Roma Gąsiorowska, Magdalena Czerwińska, Piotr Głowacki, Olga Bołądź till great local figures, not associated with the region though like composer from Toruń Kazimierz Serocki ("Krzyżacy" and "Potop" soundtrack) or Andrzej Słowicki the founder of legendary DKF Kwant (Discussable Film Club) that formed Roman Gutek. We will talk about the future of local cinema. The discussion seems to be interesting.
Today starts up an excellent section of Tofifest for children that dreams about becomming film makers called FILMOGRANIE. It's on for two years and it's very popular since the very beginning. It takes place in simultaneous two sections "White rabbit, red baloon, pink panther – film mornings for the youngest (age 4-8)"and Workshop "MIKRO in MAKRO. Film creatures (age 8-14)" Both take place in Primary School n1 on th eOld Town of Toruń near festival center in Baj Pomorski. You can follow it on the blog: http://filmogranie.blogspot.com/
The last part of the day – Tofifest by night — FestKlub ENERDE. Since 22:00 will perform: DUMP colektiw, DJ FUNKTION.
* * *
Thursday, 28th of June
JIRI MENZEL ARRIVES!
Meetings (after presentations)
Localisations meetings — films: "Variete, muzyka bez końca" and "Warszawiak, tubylec i Maciuś"
at 15:30 block starts, Teatr Baj Pomorski, Sala B
Meeting with Antoni Krauze (director)
at 19:15 film projection of "Czarny czwartek" (From Poland Competition), Kino Centrum
Special award of Golden Angel Tofifest for openning new horizons and creative impact into world cinematography for Jiri Menzel
at 18.00 projection of the film by J. Menzel "Obsługiwałem angielskiego króla" (Cultural Exchange), Teatr Baj Pomorski, Sala A
Meeting with David Easteal (director of "The Father", Shortcut)
at 20.00 beginning of the block; Teatr Baj Pomorski, Sala B
Tofifest by night- FestKlub ENERDE, from 22:00 / music: balkan groove / musicians: concert of the band Tsigunz Turbo Balkan Groove / AFTER PARTY: balcan music
Films (recommended)
10.00 The Boxer / Bokser, dir. Jim Sheridan, Irlandia; ZIELONA WYSPA JIMA SHERIDANA
13.15 A Taste of Honey / Smak miodu, dir. Tony Richardsson, Wielka Brytania; MŁODZI GNIEWNI
14.45 Sibir. Monamur / Siberia Monamour, dir. Slava Ross, Rosja; main competition ON AIR
15.30 Variete – muzyka bez konca, reż. Darek Landowski; Warszawiak Tubylec i Maciuś, Paweł
Słomkowski, LOCALISATIONS – CINEMA from TORUŃ and BYDGOSZCZ
17.15 Kóngavegur / King's Road, dir. Valdis Oskarsdottir, Islandia
17.15 La Mosquitera / Moskitiera, dir. Agusti Villa, Hiszpania, FORUM 2010-11
18.00 Obsluhoval jsem anglického krále / Obsługiwałem angielskiego króla / I Served the King of England, Jiri Menzel, Czechy; CULTURAL EXCHANGE
19.15 Czarny czwartek. Janek Wisniewski padł / Black Thursday. Janek Wisniewski fell, dir. Antoni Krauze, Konkurs FROM POLAND
22.00 Kynodontas / Kieł / Dogtooth, dir. Giorgos Lanthimos, Grecja, FORUM 2010-11
22,30 Essential Killing, dir. Jerzy Skolimowski, OPEN SPACE