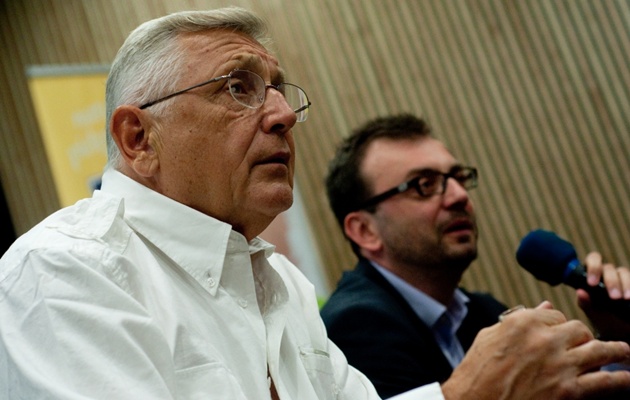 Jiří Menzel Masterclass
Due to the new series of meetings called MASTERCLASSES, on Wesdnesday 28.06, after the film "Closely Watched Trains", we had an occassion to participate in a meeting with prominet Czech director, Jiří Menzel. The leading slogan of prelection was: "Hrabal — my inspiration". At the meeting, except for the moviegoers, appeared also young filmmakers who are at the beginning of treir adventure with cinema. They asked the master about various ins and outs of the profession of director and actor.
How do you choose from relevant literature about film? And what is your your favorite Hrabal book?
Menzel: The most I like reading his first short stories, but I also like "I Served the King of England". I think it's on the top of literature list. I was lucky, because I attended a good film school, at that time the best teachers taught there. Just like it was in school in Łódź. That was the advantage of the socialist regime that the filmmakers was so poorly paid in those schools. After that, when I was in Scandinavia, or elsewhere, I didn't encounter it anymore. There are theorists rather, or people who failed to succeed in the cinema. I was in class that belonged to one of the best. He was a director, who translated good literature into film language and he taught us how to do it. Prose does not need to be perfect for the film, because often it lacks drama in it. It needs the beginning, middle and end. The book is only a material to translate into film. And although it sounds simple, it is not easy.
Could you help young filmmakers to come up with a good start and ending of the movie?
Menzel: It is a matter of content. You need to find a moment when two elements come together, not to make two edges. Punch line is very important, because man come out of the cinema with it. Many movies have mistakes in the composition. Scenario is a structure here, unlike in prose. It is a work like an engineer, you have to do it with an open head.
You are a director of both film and theater, what are the differences between these two things?
Menzel: The main difference is in the fee. The theater has less money, but also less shame. The stories are presented in the same way both on stage and on screen. There is only one exception. Film has more technique. The film taught me what time is, how it is important and how we should save it. You have to handle it carefully to not to bore the viewer. Theatre taught me a greater understanding of the actors.
If you say that there is no difference between a film and a theater director, would it be possible to create one direction at the university?
Menzel: It's ridiculous that the artistic school is a kind of graduate school. We can not compare it to other schools, where people honestly learn medicine or law. I closed all the knowledge of art in one seminar. This should be a practical teaching. When I was in school we had four chairs. In a few years, there were already eleven. People who did not succeed in life come up with idiotic new directions. In Croatia, for example, there is only one director direction.
How do you choose your actors?
Menzel: The actor must be a personality. If he has no clear personality, he won't be good. We won't see him. In the theater, the actor is a profession. You have it or not.
What with your connection with an acting?
Menzel: Yes. I play, but only at friends. Sometimes when I know, that they record video, I ask them: "Who will play there?". If someone has a weaker nerves, he gives me a role. I'm not an actor, and I regret it, because it's a beautiful profession.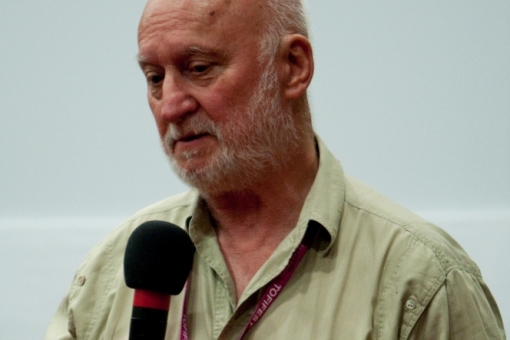 Meeting with Grzegorz Królikiewicz
Festival Wednesday was the day of meetings with the real masters of cinema. After a meeting with Jiří Menzel, we watched the first film by Grzegorz Królikiewicz, "Through and Through", 1971. Without any doubt, we can say that this is one of the most extraordinary films in Polish cinematography. It tells the story of a marriage that could not find themselves in the reality. This couple murders three people for money. They face trial with the burden of monsters, surrounded by omnipresent hatred. With the development of the proceeding, they began associating the fans who want their acquittal. The story is based on real events that took place in 1932. Grzegorz Królikiewicz reached to his own theory of showing the film outside the frame area. The image is black-and-white. There is also an acquiring music and minimal dialogue. It makes the movie breathtaking and we cannot get away. After the film, director Gregory Królikiewicz was our next guest.
What do you think when people compare you to Bergman or Jarmushem?
K: For me film is the kind of confession. It's not a genre. It's a personal statement with very intimate formula. Comparing intimacy with another intimacy is pointless. I have never compared myselves to someone else. You cannot overtake in the art.
How can we understand this movie?
K: When I made this film I started from the script and then it went in phases. The most important was a story in itself, especially with the punch line. And therefore I found a form that explains what I mean. This film is a mystery. Love is the basis of this film.
Was Dostoyevsky's "The Crime and The Punishment" an inspiration for you?
K: They did not fall before the court's door like Raskolnikov. Therefore it cannot be compared. They do not want to buy wine, and save each other with love. They represent the extreme manifestation of freedom. Love gives value to human death.
Why did you decide to choose this history to debut?
K: Every debut is like imagining own funeral. You have to behave properly, so I chose this story.
And what with the idea for showing film space outside the frame?
K: Contemporary art is different from the traditional art, because in the first case co-authoring is natural and nacessary. I wanted make people contributors, not to see the situation in the frame, but to find beauty. My goal was to equal the viewer and the author.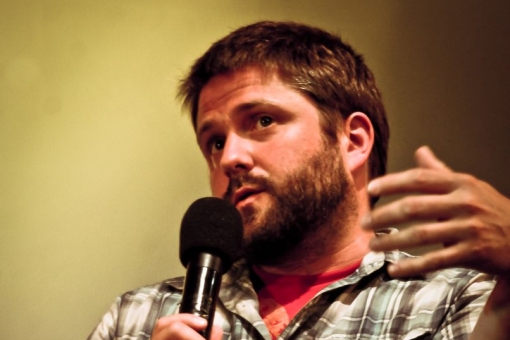 Dagur Kari: Magical realism in the light version
Dagur Kári is another guest of the 9th ediotion of TOFIFEST . This year three films were presented: "The Good Heart", "Noi albinoi" and "Dark horse". Importantly, Icelandic director received the Golden Angel for Outstanding Young Artist of the European Cinema.
On Wednesday, after the "Dark…" festival audience was pleased to participate in a meeting with Dagur Kari. The director talked about his career, creative process of making films, but (what is the most intriguing) he raised the issue of convention of Dogma manifesto.
Dagur Kári is a well known author in the arena of European cinema. His thesis film, "Lost Weekend" won several international awards. Icelandic director takes a lot of time for implementing his projects and create new movies. "I work with my films for a long time. Each task is very important for me. I have worked with 'Noi albinoi' for 10 years. 'The Good Heart' took me 8 years" — says the director.
Kári emphasises that he doesn't classify his titles. "Dark horse" is "the magical realism in the light version." Why? "Only in this way I can categorize my work. So many things happen around us. This film tells the story of everyday life. All these events can be called magical, both in the story of the film, as well as in our real life. You only need to see them." Viewers are looking for similarities with the sitcom, where the warm and beautiful world of this genre goes with "Dark horse", where elephants can be found out of the window.
The most important for the director is a visual side of the film. This is the strongest point of this work. The author doesn't focus on the dialogues, considering them only as complementary backgrounds. Film is kept in black and white, his image is grainy. The viewer has the impression that "Dark…" were doing "casually". Only a few seconds in the 90 minute of film have color. Many people consider this scene as the best. "The inspiration for this movie was 'Masculine Feminine' by Jean-Luc Godard. It seems to be boring, but there are also magical moments. All that is stylish and nonchalant. Magic, which we can see and which we can find on the screen."
We must mention about happy-end. "Happy-ends without truth, conclusions and reflections bring me the sadness and the lack of saturation. I feel empty. 'Dark…' haven't got a tragic ending. Red hair, from the end of the film, it's a kind of happy ending. There isn't a truly Hollywood happy ending, however, we can find possitive elements in it. From my assumption, it could not be fully successful completion, because, in my opinion, when the movie ends with a happy end, we cannot say that the audience felt the overwhelming moments that happen in our lives over and over. The viewer has to experience catharsis, a kind of purification."
Dagur Kári graduated in 1999. This period in Scandinavian cinema was full of many changes. "Changes in Nordic film industry didn't surprise me. I have seen these changes during my study. Most disappointing were the far-reaching changes in the digital progress. I am talking about downloading movies from the Internet, DVDs or watching a movie on a mobile in a poor quality. Dogma was important. Its spirit was still alive. The idea was to fight with the tendencies of European cinema. However, Dogma became a tendention!"
Dagur Kári is an extraordinary figure in modern directing. Impressions, that Icelander provided us, for many viewers are unforgettable. Visual layer of individual titles is often appreciated. It's very important for the director, too. "His films are simple and sincere" — says a voice from the audience, one of the participants. That's why Dagur Kari is remembered for many years.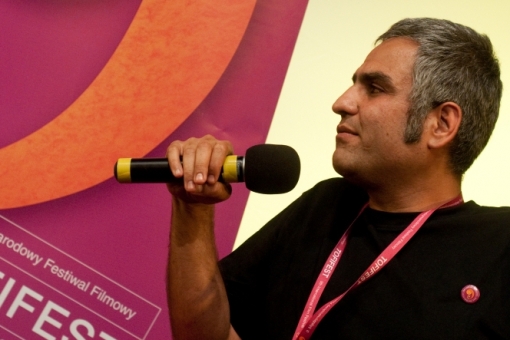 "Farewell Baghdad" and the meeting with its director Mehdi Naderi
On Wednesday the insolence of the Tofifest movies has crossed its cultural and lingual boundaries. After showing the movie its director Mehdi Naderi was talking about the circumstances of making the movie, and also about the need of dialogue between the representatives of Western and Eastern cultures.
"Farewell Baghdad" is the outcome of observing the Near Eastern countries after the American intervention. Naderi puts three characters in the movie: Daniel Dalca, who tries to escape his past by joining the army, Rebecca, who clears minefields and plants palm trees in their place, and also Saleh, who after losing his family in bombarding wants to commit suicide by blowing up. People were living their own lives in front of the war.
But it is not only a story about three characters, who share one fate, the fate of the war. It is also a try to bring together the East and West side of the conflict. "I was trying very long to make 'Farewell Baghdad'. This movie took 6 years of my youth. Nevertheless, I want to continue my mission of building a bridge between East and West through my movies" — said Naderi — "Though we are living in different cultures we have to understand each other. We need a dialogue".
In this movie we can see violence and conflict mixed with poetry and metaphor. On one hand we can see the reality of the local problems, and on the other hand the dream of peace reflected in a symbolic way. The latter idea, as the director explained, is an outcome of the censorship still present in his country. "When you do something for your intellect, not for money, you have to use different sources. We are limited by the censorship, so we have to be careful" — said Naderi.
"'Farewell Baghdad' is an important movie for Polish viewers because one of the main characters is Polish. Maybe you don't notice it but Poland and Iran have many common issues. We look similarly at our history. For us Poland is a symbol of fighting and defending. Polish cinema is essential for us. The movies of Krzysztof Kieślowski and Andrzej Wajda were very influential when it comes to my creation of movies" — said the director.
In the nearest future Naderi together with his friend plans to make a movie based on his inspirations of Charlie Chaplin and Vittoria De Sica. He hopes that they will manage to make it in Europe.