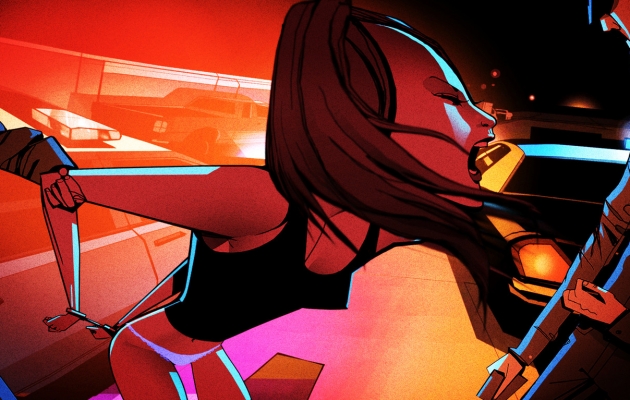 From a story about homosexuals fleeing Somalia from persecution, through a war erupting in a fictional country that resembles Poland, to a story about a man, who found his cabin on a garden plot quite surprising. This year, the Shortcut section will truly be an eruption of diversity, and nearly all of the films featured in the competition will have their premières at Tofifest.
The selection for the Shortcut International Short Film Competition includes 27 films from 22 different countries. The competition features feature films, documentaries, and also animations. All of them will be evaluated by a jury composed by actress Malgorzata Zajaczkowska, film director Karolina Bielawska, and film critic Marcin Radomski. Spectators will have a chance to see a fine selection of short films that have either been nominated for or won some of the most important film awards all around the globe. Let us tell you a bit about some of them.
Top of the top
You will start your journey through the Shortcut competition with "Pear Cider and Cigarettes", which was nominated for Academy Awards in the Best Animated Short Film category. The film was directed by Robert Valley and it tells a story about two young men, friends from Canada, one of whom ends up in a Chinese hospital with a serious health condition. Once that happens, the other one immediately travels there to help him. It is a film about friendship, commitment, and the most important values in life.
The two successive films on our list have also won precious awards. The Golden Bear of Berlinale was awarded to "Small Town" from Portugal, directed by Diogo Costa Amarante; "Night Spinning" from Germany, directed by Yi Luo, was qualified for the shortlist of the BAFTA Award for a Student Film, while "Paul Is Here" from Belgium was awarded Grand Prix in the Cinéfondation section in Cannes.
Finland is represented by "The Ceiling", which received a Special Mention in Cannes. This film by Teppo Airaksinen is a slightly absurd story about a man, who decides to seek shelter and seclusion in a cabin by the lake, on the eve of his divorce. The cabin has a couple of surprises waiting for him, though.
Berlin, Venice, and Locarno
A couple of the films selected for the Shortcut competition have also been nominated for Golden Bears at Berlinale. Take for example "The Comet" ("Kometen") from Sweden, directed by Victor Lindgren, which comments on the problem of refugees flooding Europe. What's worth emphasising, one of the main protagonist is portrayed by Adbi Aziis, a Somali, who actually did flee from Somalia from persecution against gays.
"The Summer Movie", a French and Belgian co-production directed by Emmanuel Marre, was not only triumphant in Berlin, but it also won the Grand Prix at the prestigious film festival in Clermont-Ferrand. "Hello, Horse!" from Latvia, directed by Laila Pakalniņa, was included in the official selection of the Locarno IFF, while "First Night" by Andrei Tănase from Romania competed in Venice.
The Polish Team
There are three short films from Poland featured in the competition. Two of them are "Nauka / Education" by Emi Buchwald and "Totalna harmonia / Total Harmony" by Roman Jarosz. The third one is this year's discovery, "Najpiękniejsze fajerwerki ever / The Best Fireworks Ever", directed by Aleksandra Terpinska. The latter of the three tells a story about one day in the lives of three friends, who are forced to modify their plans for the future, because their country is on the brink of an armed conflict. Last year, the film won the Canal+ Award and the Golden Rail Award in Cannes, and also triumphed at the Short Film section of "The Young and Cinema" Debut Film Festival in Koszalin.
Experiments and animations
The Shortcut section also features experimental and animated films. The American "Everything" by David O'Reilly will take us on a journey through the Universe, giving us an opportunity to look at it from different perspectives. The films incorporates elements of role-playing games, sandbox, and simulation.
As far as animations go, they are represented by "Corner", a Croatian and Estonian co-production, directed by Lucija Mrzljak, "Grandpa Walrus" from France, by Lucrèce Andreae, and the British "Tough" by Jennifer Zheng, which was competed at Sundance.
Jury of the Shortcut competition
And last, but not least, let us introduce you to the jurors. Małgorzata Zajaczkowska is one of the most popular Polish actress performing both in theatre and film. She has put her acting talent on display in "Danton" and "Walesa. Man of Hope" by Andrzej Wajda, "Constancy" by Krzysztof Zanussi, or "You Are God" by Leszek Dawid.
Karolina Bielawska is one of the most interesting young film directors in Poland. In 2016, she received the Charles E. Guggenheim Emerging Artist Award. She was also nominated for Polityka Passports 2015 and for the Polish Film Awards: Eagles 2017.
And finally, Marcin Radomski, a film critic and journalist. We are particularly happy to have him in the jury, because Tofifest and Marcin go back a long way – he has worked in our press office for nearly a decade, which makes him one of the oldest partners of Tofifest. He has graduated from the University of Warsaw. He also studied at the University of Amsterdam and at Collegium Civitas. Currently, he is a PhD student at the Institute of Art of the Polish Academy of Sciences, and works for the Polish Filmmakers Association. He writes articles and reviews for various Polish film-related media.
The winner of the Golden Angel in the Shortcut competition will be announced on 28th October, 2017.
The Official Selection for the Shortcut competition:
"Atlantis, 2003" ("Atlantída, 2003"), Slovakia, Czech Republic, 2017, directed by: Michal Blaško (Polish première)
"Before the Flight" ("Avant l'envol"), Switzerland, 2017, directed by: Laurence Bonvin (Polish première)
"Camouflage", Belgium, 2016, directed by: Imge Özbilge (Polish première)
"Corner" ("Kut"), Estonia, Croatia, 2016, directed by: Lucija Mrzljak (Polish première)
"Coup de Grâce", Portugal, 2017, directed by: Salomé Lamas (Polish première)
"Damiana", Columbia, Brazil, 2017, directed by: Andrés Ramírez Pulido (Polish première)
"Everything", USA, 2017, directed by: David O'Reilly (Polish première)
"First Night" ("Prima Noapte"), Romania, Germany, 2016, directed by: Andrei Tănase (Polish première)
"Give up the Ghost", USA, 2017, directed by: Marian Mathias (Polish première)
"Grandpa Walrus" ("Pépé le morse"), France, 2017, directed by: Lucrèce Andreae (Polish première)
"Hello, Horse!" ("Zirdziņ, hallo!"), Latvia, 2017, directed by: Laila Pakalniņa (Polish première)
"Invisibly" ("Láthatatlanul"), Hungary, 2017, directed by: Áron Szentpéteri (Polish première)
"Little Manifesto Against Solemn Cinema" ("Pequeño manifiesto en contra del cine solemne"), Argentina, 2017, directed by: Roberto Porta (Polish première)
"Across My Land", USA, France, 2017, directed by: Fiona Godivier (Polish première)
"The Best Fireworks Ever", Poland, 2017, directed by: Aleksandra Terpinska
"Education", Poland, 2016, directed by: Emi Buchwald
"Night Spinning", Germany, 2017, directed by: Yi Luo (Polish première)
"Out of Season" ("Fuera de Temporada"), Argentina, directed by: Sabrina Campos (Polish première)
"Paul Is Here" ("Paul est là"), Belgium, directed by: Valentina Maure (Polish première)
"Pear Cider and Cigarettes", Canada, Great Britain, 2017, directed by: Robert Valley
"Small Town" ("Cidade Pequena"), Portugal, directed by: Diogo Costa Amarante (Polish première)
"The Ceiling" ("Ketto"), Finland, directed by: Teppo Airaksinen (Polish première)
"The Comet" ("Kometen"), Sweden, 2017, directed by: Victor Lindgren (Polish première)
"The Party", Ireland, 2016, directed by: Andrea Harkin (Polish première)
"The Summer Movie" ("Le film de l'été"), France, Belgium, 2017, directed by: Emmanuel Marre (Polish première)
"Total Harmony", Poland, directed by: Roman Jarosz
"Tough", Great Britain, 2016, directed by: Jennifer Zheng (Polish première)