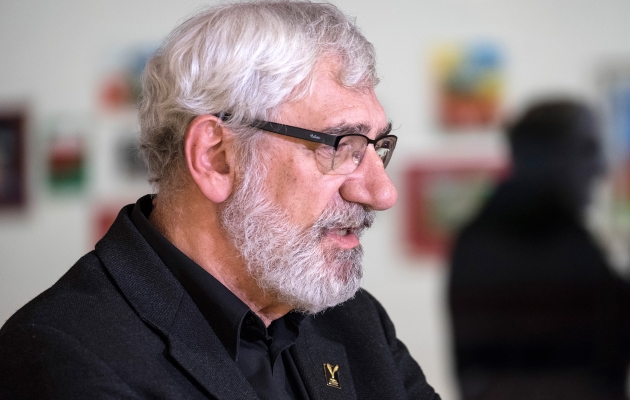 The Ceremony of awarding the Golden Angels of Tofifest comes this evening. It is just a couple of hours, before we know who shall leave Torun with Grand Prix. Once all statuettes have been given away, we will follow with a concert that brings female composers back to the position they truly deserve, since: "Music is a woman." And then...
The Tofifest engine shall not slow down one bit, today. There are meetings with the film crew behind "Double Trouble" and with special guests, Malgorzata Kozuchowska and Maciej Stuhr, awaiting you. You will also have a chance to see the first ever film directed by Maciej Stuhr, i.e. "Silence of the Polish Lambs."
"Music is a woman" shall resound at night
After that, we shall have the closing ceremony of the festival combined with an awarding ceremony, and it shall all culminate with a unique concert – "Music is a woman." It may well be that it will re-define the concept that film music is mostly made by men. We know all there is about Hans Zimmer and Ennio Morricone, but it is time you have learned something about Wendy Carlos, Vivian Kubrick, and Diane Warren!
A story about the songs that you shall listen to during the concert — Part 1
If truth were told, speaking about Diane Warren, for example, in the context of a "discovery" is a little naive. She has been nominated for Academy Awards for her songs featured in films, eight times, which definitely qualifies as a success on an international level. Ania Karwan, Paulina Przybysz, Krzysztof Zalewski, and the impressive Astrolabium Chamber Choir will perform between ten and twenty absolute film hits. They will include such gems as "Flashdance… What a Feeling" originally sang by Irene Cary, or "Paper Planes" by M.I.A.
A story about the songs that you shall listen to during the concert — Part 2
The concert is a joint effort of festival director Katarzyna "Kafka" Jaworska, and music and composer Bartek Staszkiewicz.
Sunday, at High Noon. The Torun Film Route opens
And then... Naturally, there will be the Night of Golden Angels at the festival club, and then the entire Sunday filled with film screenings. The afternoon on Sunday shall also mark the start of the on-line Torun Film Route, which is a tourist trail following the history of film through the Old Town in Torun.
Its author, Jaroslaw Jaworski, and his special guest Krzysztof Zanussi shall open the trail. The inauguration ceremony shall take place on the corner of Podmurna and Szewska, which is the exact location where the director shot most of his "The Year of the Quiet Sun" (the film won a Golden Lion in Venice), back in 1984.
---
Now, let us go back to reports and reviews of the recent meeting that happened during Tofifest.
Reports on meetings and film reviews prepared by the Tofifest Festival Office
An actor trembles, when they feel that something is coming, said Wiktor Zborowski, a magnificent actor, during the meeting that followed the screening of "Spoor." Obviously, he referred to Agnieszka Holland, as her film was somewhat of a premonition of the things that would later happen in the Białowieża Forest. Wiktor Zborowski also offered an insight into the film set dominated by... matriarchy. You can enter the magic world of "Spoor" and fell the magic of meeting Wiktor Zborowski in the review written by Anna Badziag.
The meeting with actress Jowita Budnik followed the screening of "Birds are singing in Kigali" by Joanna Kos-Krauze and Krzysztof Krauze. Jowita Budnik mentioned that there were as many 20 versions of the script. There was a long-time concept of having two main roles, i.e. a white man, who was supposed to be portrayed by Andrzej Chyra, and a black woman. It would be a cheap solution to film a love story with genocide in the background. It is good that there are no such emotions present in the film, said Jowita Budnik during the meeting. Anyway, women in film are much more interesting, she added. Zuzanna Kuffel provided an account on that meeting.
Tehran Taboo is a story about people living in contemporary Tehran, a city full of contrasts. The film clearly demonstrates that the top-down prohibitions and restrictive religious laws imposed on the Iranian society is pure hypocrisy, no question about it. The "real life" in that country starts at night. And then it also turns out that the sexuality of Iranians is the actual taboo, writes Anna Skoczek in her review.