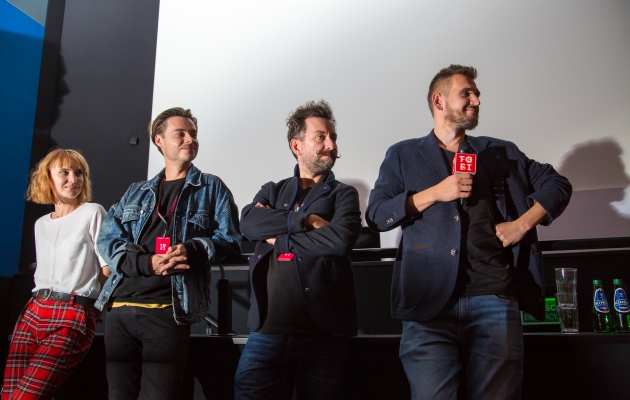 The From Poland section is full of both controversial and interesting film productions, but also provides many opportunities to meet their authors, and such meetings result in widening the perspective in which we see and understand the films. The meeting with the authors of Zgniłe uszy / Rotten Ears also helped resolve any doubts as to the meaning of its title.
The very first question asked during the meeting that followed the screening of the film precisely addressed that issue. Laughing, the authors explained that it corresponded to the communication square, which is also referred to as the four-ear model. According to this model every message has four facets, or, in other words, it is effected through four ears. As for the metaphorical "rotten ears," the notion refers to erroneous communication, which includes all misunderstandings and ambiguities that such communication creates between the main protagonists in the film.
The meeting with the four young and ambitious filmmakers had a fantastic atmosphere, filled to the brim with jokes, which would most often refer to the difficulties one encounters, when making independent films. The filmmakers participating in the meeting (Piotr Dylewski, Magdalena Celmar, Piotr Choma and Grzegorz Hartfiel) revealed some of the secrets regarding the making of an independent film, when you have virtually no money to do it. The film was shot in only a few days, during a trip the crew took to the small town of Gubity, in the region of Masuria. It was one crew, one camera, one toilet, and one car, as the filmmakers described the enterprise themselves. It was the reality of their little adventure spanning several days. The filmmakers talked a little bit about the script for the film co-written by Piotr Dylewski and Magdalena Celmar, who played the main protagonist in it. Magdalena Celmar laughed that film directors are often deprived of the capability to hear properly, which results in writing dialogues that cannot be said in a natural way. As a consequence, she decided to do it herself.
Somebody from the audience wanted to know, if the filmmakers had contacted a therapist to discuss certain aspects of depicting marriage counselling sessions, before filming. It was quite surprising to learn that film director Piotr Dylewski is himself a psychologist by education, but he took the additional effort to consult three other psychotherapists, including an expert in dance movement therapy (DMT). The director admitted that he likes wondering about the processes which lead to the occurrence of certain situations, which was precisely the reason why he was so fascinated with the mechanism of a relationship he portrayed in Zginłe uszy / Rotten Ears.
The meeting with the filmmakers was such a funny experience that all the viewers smiling right after watching the film simply could not stop doing so, when they had left the room.
Aleksandra Boniecka