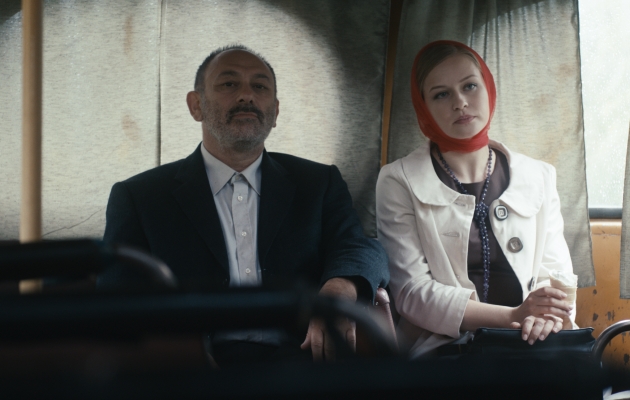 Screenings
23 October, 15:00 · Od Nowa – new hall
Year 1960, and two things happen in Paradjanov's life. First, he is given the permission to film The Shadows of the Forgotten Ancestors. Second, his wife Svetlana is about to give birth to his son.  His first film is a blast in Europe but the Soviet authorities barely accept it. Paradjanov continues to tease the government with his extravagant behavior, turning his house into a club of artistic liberalism, trying to fill the void left by Svetlana with young, beautiful and talented people, among which is the young architect Arseny. They become close friends. Paradjanov goes to Armenia and directs Sayat Nova, his second brilliant film. Little does he know, the ball already starts rolling and he is being looked into by KGB. In 1971, Paradjanov is arrested when he returns to Kiev after Sayat Nova is banned. He is sentenced to 5 years in a maximum security prison for a variety of causes, including "suspected" homosexuality and inciting Arseny's suicide...
| | |
| --- | --- |
| Director: | Olena Fetisova, Serge Avedikian |
| Screenplay: | Olena Fetisova |
| Music: | Michel Karsky |
| Cinematography: | Sergei Mikhalchuk |
| Editing: | Alexandr Shvets, Alexandra Strauss |
| Cast: | Serge Avedikian, Yulia Peresild, Zaza Kashybadze, Alexandra Strauss |
| Production: | Olena Fetisova |
| Distribution: | Arthouse Traffic |
| Awards: | MFF w Odessie / Odessa IFF – Nagroda Złotego Księcia / Golden Duke Award (2013); Batumi AIFF – Nagroda za Najlepszą Rolę Męską / Award for the Best mail acting (2013); Cinepolitica IFF, Bucharest / MFF Cinepolitica w Bukareszcie – Specjalna nagroda jury / Special Jury Prize (2014) |
Olena Fetisova is Ukrainian based director, scriptwriter and producer, EFA member. She was born in Kiev to a family of filmmakers, 1964. She graduated from Moscow Film School VGIK, Russia, 1987. Olena wrote, directed and produced a number of films, which were selected and won awards at International Film Festivals worldwide. In 2009 Olena as producer received Ukrainian State Award for the Best Film for Children. Since 2009 Olena has been developing, writing, and directing her debut feature film Paradjanov.
Filmography:
2013 – Paradjanov / Paradżanow