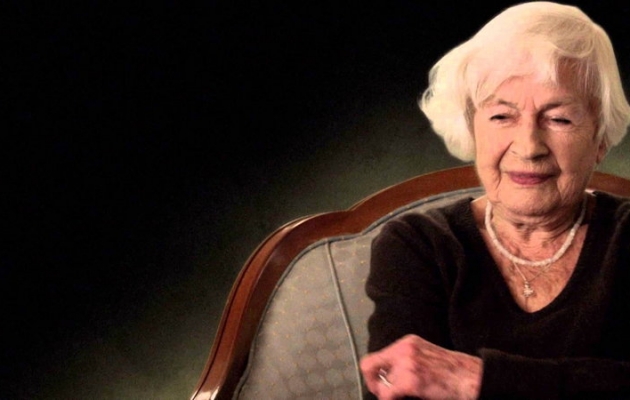 Screenings
25 October, 13:00 · Od Nowa – new hall
Documentary. It is a film story about a world that is no longer there. Danuta Szaflarska, a great film and theatre actress from Poland, will be your narrator and guide to the history and culture that shaped her into the human being she is today. The pared-down form and cinematography by Arthur Reinhart, using primarily black and white poetics, interwoven with archive material from the actress' private collection, as well as with scenes from the film productions that made Danuta Szaflarska famous, i.e. Forbidden songs, The Treasure, Farewell to Maria, or Time to Die, produce a framework for a story full of digressions, memories, and humour, which the actress decided to share with us. The symbolic 97 minutes of the film, which is a direct reference to the actress' age (the year the film was made Danuta Szaflarska turned 97), will give the audience an opportunity to see the world seen through the eyes of this extraordinary personality of Polish culture. 
| | |
| --- | --- |
| Director: | Dorota Kędzierzawska |
| Screenplay: | Dorota Kędzierzawska |
| Music: | Włodzimierz Pawlik |
| Cinematography: | Arthur Reinhart |
| Editing: | Dorota Kędzierzawska, Arthur Reinhart |
| Cast: | Danuta Szaflarska |
| Awards: | Orzeł / Eagle Award – Najlepszy Film Dokumentalny / Best Documentary (2014) |
Dorota Kędzierzawska was born in 1957, in Łódź. She is a film director, screenwriter, and editor. In the years 1976-1978, she studied at the Faculty of Cultural Studies of the University of Łódź. In 1981, she graduated from the Faculty of Directing at the Film School in Łódź.
Selected Filmography
2012 – Inny świat
2010 – Jutro będzie lepiej
2007 – Pora umierać
2005 – Jestem
1998 – Nic
1991 – Diabły, diabły