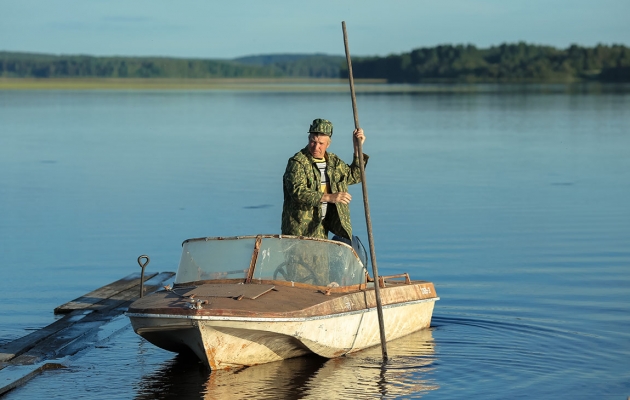 Screenings
18 October, 21:00 · Od Nowa – new hall
The film represents life in a godforsaken Russian village. The only way to reach the mainland is to cross the lake by boat and a postman became the only connection with the outside world. A reserved community has been set up here. Despite the modern technologies and a spaceport nearby the people of the village live the way they would in the Neolithic Era. There is neither government nor social services or jobs. The postman's beloved woman escapes the village life and moves to the city. Postman's outboard engine gets stolen and he can no longer deliver mail. His normal pattern of life is disrupted. The postman makes a decision to leave for the city too but returns before long with no certain reason...
| | |
| --- | --- |
| Director: | Andrey Konchalovskiy |
| Screenplay: | Andrey Konchalovskiy, Elena Kiseleva |
| Music: | Eduard Artemev |
| Cinematography: | Aleksander Simonov |
| Editing: | Sergei Taraskin |
| Cast: | Timur Bondarenko, Irina Ermolova, Aleksey Tryapitsyn |
| Production: | David Ayer, Bill Block, John Lesher |
| Distribution: | Monolith Films |
| Awards: | MFF w Wenecji / Venice IFF– Srebrny Lew: Najlepszy Reżyser, Nagroda Zielona Kropla / Silver Lion: Best Director, Green Drop Award (2014) |
Andrey Konchalovskiy was born in Moscow, in 1937. He is a film director, screenwriter, and producer. He studied in a Moscow conservatoire, in the piano class, and also in the All-Russian State University of Cinematography named after S. A. Gerasimov (VGIK) in Moscow. His early film The Boy and the Dove, which Konchalovskiy made during studies, brought him an award at the Venice IFF. As a screenwriter, he worked on films by Andrei Tarkovsky, among others. When the film The Story of Asya Klyachina, Who Loved But Did Not Marry, which offered a realistic portrait of life in a kolkhoz was seized by censorship, he turned his attention to adapting classic literature. In 1980s, he started making films in the USA.
Selected filmography:
2014 – The Postman's White Nights / Belye nochi pochtalona Alekseya Tryapitsyna
2009 – Dziadek do orzechów / The Nutcracker
1987 – Cisi ludzie / Shy People
1984 – Kochankowie Marii / Maria's Lovers
1971 – Wujaszek Wania / Dyadya Vanya
1966 – Andriej Rublow