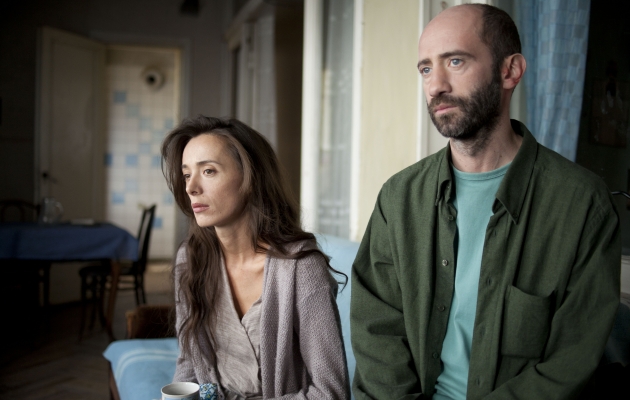 Screenings
23 October, 11:30 · Kino Centrum
Sandro is a forty-something teacher and still lives with his parents, who constantly meddle in his private life. He shows little interest in the blind dates his friend Iva pressures him to go on. On an outing to the Black Sea, he falls in love with the hairdresser Manana. When her husband Tengo is released from jail early, Sandro's predicament takes on absurd dimensions. He gets caught up in wild family disputes and feels compelled to move Manana, pregnant with Tengo's child, into his parents' home. Wrong conclusions and misunderstandings are the driving force of this melancholy comedy, in which everyone meddles with everything but no one really listens, which only leads to yet further confusion. When in doubt, they all argue together with true ferocity, the situation invariably ending in intense outbursts. The narrative tone stays calm, as the events come thick and fast. Unsentimental, with various ellipses and allusions, and shot with wonderful colour compositions and an incredible feel for space, architecture and cityscapes, the film ultimately attains extraordinary profundity.
| | |
| --- | --- |
| Director: | Levan Koguashvili |
| Screenplay: | Boris Frumin, Levan Koguashvili, Andro Sakvarelidze |
| Cinematography: | Tato Kotetishvili |
| Editing: | Nodar Nozadze |
| Cast: | Andro Sakvarelidze, Ia Sukhitashvili, Archil Kikodze, Vakhtang Chachanidze, Kakhi Kavsadze |
| Production: | Levan Koguashvili, Ketevan Machavariani, Suliko Tsulukidze, Olena Yershova |
| Distribution: | Art House |
| Awards: | MFF w Sofii / Sofia IFF – Najlepszy Film, Najlepszy Reżyser, nagroda FIPRESCI / Best Film, Best Director, FIPRESCI Prize (2014); GoEast Festival – Nagroda dla najlepszego reżysera / Best Directors Award (2014); Lecce Filmfestival – Golden Olive Tree (2014) |
Levan Koghuashvili was born in Georgia in 1973. After finishing school, he began to study at the State Institute of Film and Theatre in Tbilisi, but one year later a civil war broke out in Georgia and he began to work as a journalist and later as a director. He graduated from New York Film School. In 2009, he shot a well-know documentary Women from Georgia. His full-length debut Street Days (2010) was screened at various film festivals.
Filmography:
2013 – Blind Dates
2010 – Street Days