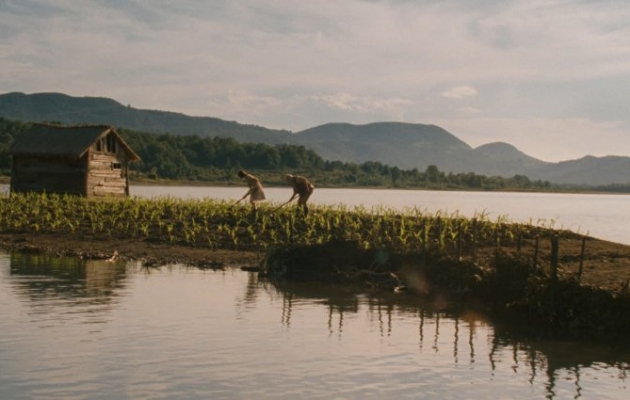 Screenings
21 October, 18:45 · Kino Centrum
The Inguri River forms a natural border dividing Georgia from Abkhazia. One of the spring floods has created a little island in the middle of the river, as if made for the cultivation of corn. At least, this is the belief of an old peasant, whose sunburned face resembles the landscape he has trodden for dozens of years.
In his long-awaited new movie, the Georgian filmmaker finds a quiet companion in the old man, who carries out his work silently and with almost ritual deliberation; Ovashvili moves fluidly around his subjects, allowing Elemer Ragalyi's camera to perform pure magic. Betraying an eye for scenic composition and practically without the use of dialogue, the director pieces together a crystal clear drama of the bond between man and nature. Capturing the characters' daily toil and minimal interaction in a fashion all its own, this psychological drama achieves a symbolic timelessness. 
| | |
| --- | --- |
| Director: | George Ovashvili |
| Screenplay: | Nugzar Shataidze, George Ovashvili, Roelof Jan Minneboo |
| Music: | Josef Bardanashvili |
| Cinematography: | Elemer Ragalyi |
| Editing: | Sun-Min Kim |
| Cast: | Ilyas Salman, Mariam Buturishvili, Irakli Samushia, Tamer Levent |
| Production: | Guillaume de Seille, Eike Goreczka, George Ovashvili, Nino Devdariani, Sain Gabdullin |
| Distribution: | Trigon-film |
| Awards: | MFF w Karlowych Warach / IFF in Karlovy Vary – Kryształowy Globus: Najlepszy Film, Nagroda Jury Ekumenicznego / Crystal Globe: Best Film, Award of the Ecumenical Jury (2014) |
George Ovashvili was born in 1963 in Mtskheta. He studied at the Georgian State Institute of Film and Theatre (1996) and at the Hollywood branch of the New York Film Academy (2006). He is involved both in documentary and feature film work, which he frequently also produces himself. He has made several remarkable short films, with Eye Level winning awards at Berlin and Odense in 2005. In 2008 he made his feature debut The Other Bank, which garnered around fifty awards.
Filmography:
2014 – Corn Island / Simindis Kundzuli
2008 – Drugi brzeg / The Other Bank