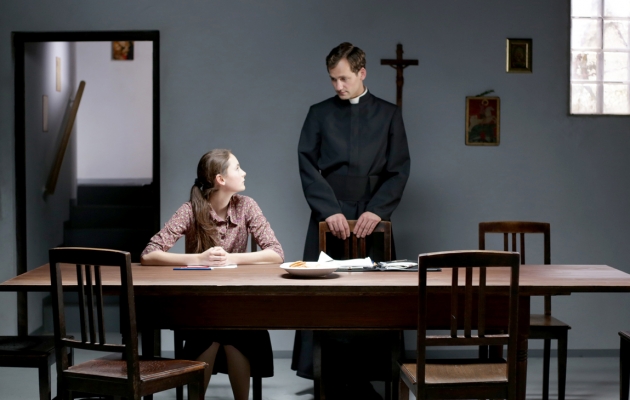 Screenings
19 October, 19:15 · Od Nowa – new hall
Maria, 14, lives in a small town in southern Germany, together with her parents and three siblings — Thomas, 11, Katharina, 4, and Johannes, 4, who is mute. The family follows very a rigorous Catholic code of conduct and belongs to a fictitious Society of Saint Paul congregation, whose leaders do not accept the reforms introduced to the Catholic Church in 1960s. The dominating mother fears the adolescence of her daughter, while Maria's father is extremely detached from family life, as he has no say in his own home. Living according to rigorous rules leaves no room for individual development and spiritual searching. Teenage Maria is a humble person and faithful to rules, so she prepares for confirmation, under the tutelage of a local priest. The cleric teaches his God-fearing students about the meaning of sacrifice and the exceptional status that the soldiers of Christ have in the eyes of God. Maria is bewitched by his stories, as she is fascinated with martyr saints. The seed of believing in miracles sown in her soul is beginning to sprout. 
| | |
| --- | --- |
| Director: | Dietrich Brüggemann |
| Screenplay: | Dietrich Brüggemann, Anna Brüggemann |
| Cinematography: | Alexander Sass |
| Editing: | Vincent Assmann |
| Cast: | Lea van Acken, Franziska Weisz, Florian Stetter, Lucie Aron, Moritz Knapp, Klaus Michael Kamp |
| Production: | Leif Alexis, Michael Jungfleisch |
| Distribution: | Aurora Films |
| Awards: | MFF w Berlinie / Berlinale IFF – Srebrny Niedźwiedź za Najlepszy Scenariusz, Nagroda Jury Ekumenicznego / Silver Bear for Best Script, Ecumenical Film Prize (2014) |
Dietrich Brüggemann was born in 1976, in Munich. From 2000 to 20006, he studied film directing at the Konrad Wolff Academy of Film and Television Arts (HFF) in Potsdam. In 2010, his Run If You Can opened the prestigious Perspektive Deutsches Kino national section at Berlinale. In his free time, Brüggemann directs video clips (among others for Thees Uhlmann and Judith Holofernes). He is also seen play piano as an accompanist, during screenings of silent films.
Filmography:
2014 – Droga Krzyżowa / Stations of the Cross
2010 – Biegnij jeśli możesz / Run If You Can