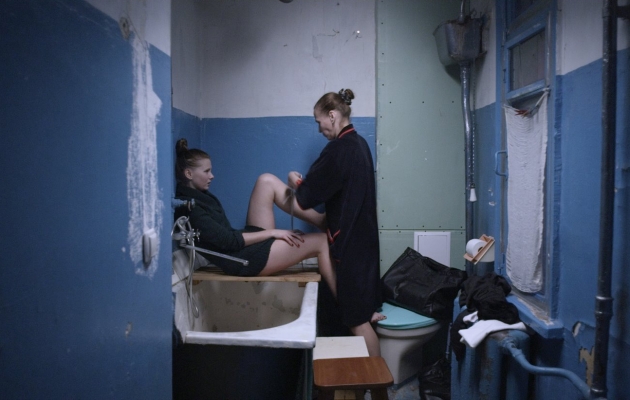 Screenings
23 October, 18:30 · Kino Centrum
Deaf mute Sergey enters a specialized boarding school for deaf-and-dumb. In this new place, he needs to find his way through the hierarchy of the school's network dealing with crimes and prostitution, the Tribe. By taking part of several robberies, he gets propelled higher into the organization. Then he meets one of the Chief's concubines Anna, and unwillingly breaks all the unwritten rules of the tribe.
This is what the director himself had to say about the film: "It's been my old dream to do homage to the silent movie. To make a film that can be understood without a single voiced word. It's not that I was thinking about some kind of a European «existential» movie in which the heroes would keep silence throughout half the film. And besides, actors were not silent in the silent movie. They communicated very actively through a wealth of byplay and body language. They could communicate emotions and feelings without a line to say."
| | |
| --- | --- |
| Director: | Myroslav Slaboshpytskiy |
| Screenplay: | Myroslav Slaboshpytskiy |
| Cinematography: | Valentyn Vasyanovych |
| Editing: | Valentyn Vasyanovych |
| Cast: | Grigoriy Fesenko, Yana Novikova, Rosa Babiy, Alexander Dsiadevich, Yaroslav Biletskiy, Ivan Tishko |
| Production: | Miroslav Slaboshpitsky |
| Distribution: | Arthouse Traffic |
| Awards: | MFF w Cannes / Cannes IFF – Nagroda główna w Międzynarodowym Tygodniu Krytyki, Nagroda France 4 Visionary / Critics Week Grand Prize, France 4 Visionary Award (2014) |
Myroslav Slaboshpytskiy was born in 1974, in Kiev (Ukraine). He graduated from the filmmaking department of the Kiev State Institute of Theatre and Arts, named after I. K. Karpenko-Kariy, majoring in feature film directing. He has worked at film studios in Kiev (the Dovzhenko Film Studio) and in St. Petersburg (the Lenfilm Studios). His second film Diagnosis has been nominated for Golden Bear. His next short film Deafness is his second Berlinale outing and also got a Golden Bear nomination. Member of EFA, since 2013.
Filmography:
2014 – The Tribe / Plemya