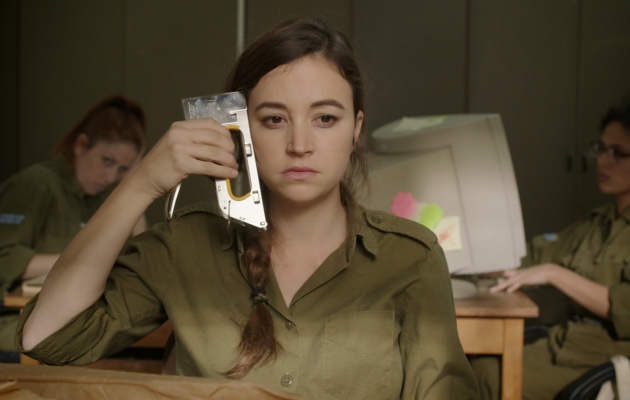 Screenings
22 October, 15:30 · Od Nowa – new hall
Zohar and Daffi are best friends; serving in an administration office at an artillery base in the south of Israel. They share a bunk bed and since both of them don't get along with others, they practically spend all their time together, sharing their secrets. As storm clouds gather over the south, Daffi does all she can to be transferred away from the hated remote base. Zohar, on the other hand, doesn't seem to care so much about where she's stationed. Terrified by the possibility of being left alone in the desolated base without her best friend — Zohar will try to prevent Daffi from leaving. One person who wouldn't mind so much about this separation is Rama, their highly motivated officer.
Through the story of these three young women soldiers, their real and surreal journey inside the labyrinth of bureaucracy, and adolescent turbulence, Zero Motivation provides a mixed comic-tragic glimpse into the Israeli militaristic society.
| | |
| --- | --- |
| Director: | Talya Lavie |
| Screenplay: | Talya Lavie |
| Cinematography: | Yaron Scharf |
| Editing: | Arik Lahav-Leibovich |
| Cast: | Dana Ivgy, Nelly Tagar, Shani Klein, Heli Twito, Meytal Gal Suisa |
| Production: | Guy Jacoel, Yochanan Kredo, Yossi Uzrad, Eilon Ratzkovsky |
| Distribution: | The Match Factory |
| Awards: | Tribeca MFF / Tribeca FF – Najlepszy narracyjny film fabularny, nagroda im. Nory Ephron / Best Narrative Feature, Nora Ephron Prize (2014) |
Talya Lavie is a director, screenwriter, and comics artist. She studied animation at the Bezalel Art Academy and graduated with merit from the Sam Spiegel Film School in Jerusalem. She authored screenplays for various television dramas. Her short film Sliding Flora screened at New York City's MoMA and in over 40 film festivals worldwide. Her thesis film The Substitute received several international awards. Zero Motivation, her first feature film, participated in the Sundance Directors and Screenwriters Lab.
Filmography:
2014 – Zero Motivation / Efes beyahasei enosh