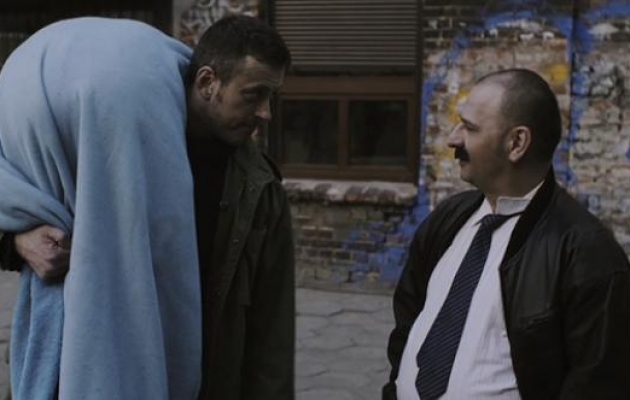 Screenings
21 October, 19:30 · Od Nowa – new hall
The film tells a fictitious story of an ambitious band from Pruszcz Gdański that is struggling to release their debut album and go on a promotional tour. They are unexpectedly aided by Czesław Skandal (Grzegorz Halama), a bailiff from Tczew, who is bored with his job and decides to become the manager of the quartet. The twists and turns of the band, their driver Stan Gudeyko and manager Skandal are filmed in a quasi-documentary form, which becomes a humorous accusation of Polish "show-business". The lively plot is spiced up by bawdy songs sung by the main protagonists: vocalist Jerzy Bydgoszcz (Tymon Tymański), drummer Zbigniew Gruz (Filip Gałązka), Dudek Maszczyk (Arek Jakubik), Gudeyko, and Skandal.
Polish Shit is a project with a history. The script written by Tymon Tymański is partly based on the painful experiences collected during concert tours of The Transistors, Miłość, and Kury, as well as on anecdotes told by people from the music industry.
| | |
| --- | --- |
| Director: | Grzegorz Jankowski |
| Screenplay: | Tymon Tymański |
| Music: | Tymon Tymański |
| Cinematography: | Tomasz Madejski |
| Editing: | Agnieszka Glińska |
| Cast: | Tymon Tymański, Grzegorz Halama, Robert Brylewski, Filip Gałązka, Grzegorz Halama, Arek Jakubik, Sonia Bohosiewicz, Jan Peszek |
| Production: | Dariusz Pietrykowski |
| Distribution: | Film it |
| Awards: | FF Gdynia – Nagroda Publiczności (2014) |
Grzegorz Jankowski is a film and TV director, and a graduate of the Andrzej Wajda Master School of Film Directing in Warsaw. He is the director and co-author of Po godzinach and Łossskot TV programmes. He has made several dozen video-clips and documentaries (including Motyle w Brzuchu and Dług. Epilog). He has also co-made cultural programmes for the Polish Television (for example Pegaz).
Selected filmography:
2014 – Polish Shit