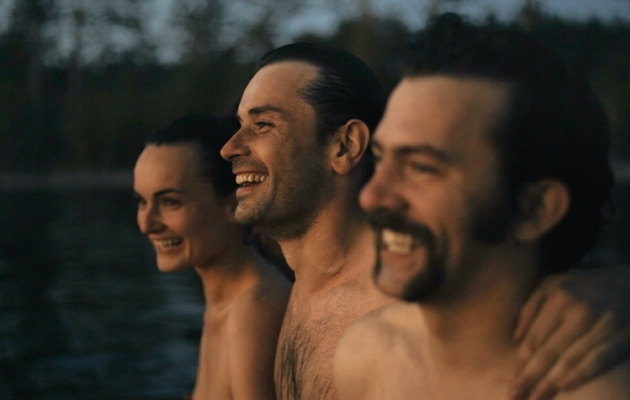 Screenings
22 October, 19:00 · Kino Centrum
Mariusz is a 30-year-old actor, who is unable to perform, as he forgets his part the moment he enters the stage. He is seeing a psychotherapist and working on a monodrama, as part of his therapy. He is looking for his Zen in the ancient art of Japanese archery and breathing techniques, but all paths seem to be going nowhere. It all changes, when his Grandpa dies and Peter, a mysterious welfare workers and fan of heavy metal, makes him a proposition. Piotr is going to give him an apartment inherited from his grandfather and in return Mariusz will help him in winning the heart of a girl Piotr is "too scared" to pick up himself. For a hairdresser, who has a simple life and hopes that it would one day become more adventurous and extraordinary, this handsome and well-build actor is a "dream come true". This way, the plan Piotr had been working on for so long is now beginning to work. All three go together on a vacation trip to the seaside, where the girl is supposed to be "bequeathed". Thus, we bear witness to the mental journey of the protagonists in which every one of them has something to win for them.
| | |
| --- | --- |
| Director: | Sebastian Buttny |
| Screenplay: | Sebastian Buttny |
| Music: | Cezary Kołodziej, Krzysztof Kaliski |
| Cinematography: | Nicolás Villegas Hernández |
| Editing: | Sebastian Buttny |
| Cast: | Grzegorz Stosz, Piotr Głowacki, Izabela Nowakowska, Jan Sączek, Weronika Migoń |
| Production: | Sebastian Buttny, Konrad Wróblewski |
| Distribution: | Absolut Media |
Sebastian Buttny is a film director, screenwriter, editor, copywriter, and photographer. In 2005, he graduated from the Faculty of Directing at the Film School in Łódź. When studying, he made short documentaries and short fiction films. He also worked on important image campaigns, as a copywriter. He is currently involved in making feature films, advertisement films, social campaigns, video-clips, and slide shows for theatre plays.
Selected filmography: