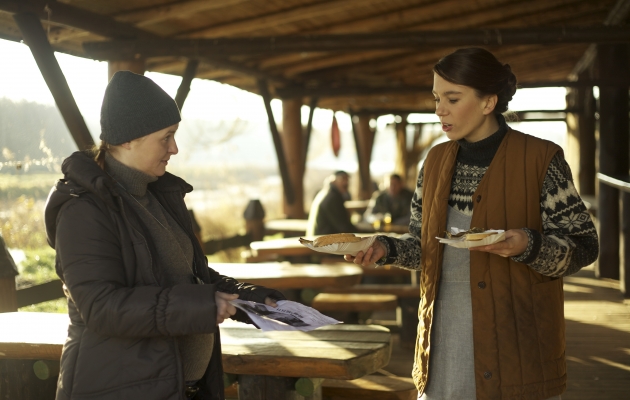 Screenings
23 October, 16:00 · Kino Centrum
Police officers from a sleepy provincial town put an end to a distillery hidden in a forest. The police squad gets under fire and one of them is wounded. The moonshiner manages to get away. In the meantime, the body of a young woman is found in a boat drifting on the lake. The circumstances of her death are somewhat mysterious and both cases are assigned to Commissioner Iza Dereń, who is in advanced pregnancy. These are to be her last cases, before she gets a temporary vacation off duty. The police officer starts a dynamic investigation. Meanwhile, the entire police station is nervously waiting for some news about the two police officers who had disappeared without trace while on duty, a couple of days ago. One of them is Iza's life partner. The moonshiner case becomes a little clearer, when it turns out that the man had died more than thirty years ago, according to police records. When trying to solve the riddle, Iza becomes more and more lost in the world of a mysterious child and its mother mad with pain. The more Iza learns about the case, the more obvious it becomes that it pertains to herself.
| | |
| --- | --- |
| Director: | Michał Otłowski |
| Screenplay: | Michał Otłowski |
| Music: | Cezary Skubiszewski |
| Cinematography: | Łukasz Gutt |
| Editing: | Agnieszka Glińska |
| Cast: | Jowita Budnik, Sebastian Fabijański, Mariusz Bonaszewski, Michał Żurawski, Łukasz Simlat, Agata Buzek |
| Production: | Włodzimierz Niderhaus |
| Distribution: | Phoenix Film Distribution |
| Awards: | Koszaliński Festiwal Debiutów Filmowych "Młodzi i Film"/ Koszalin Screen Debuts Festival "Young and Cinema" – Nagroda za scenariusz / Award for Script (2014); FF Gdynia / Gdynia Film Festiwal – Nagroda specjalna: Kryształowa gwiazda Elle, Złote Lwy: Najlepszy Debiut Aktorski / Special Prize: Elle Crystal Star, Golden Lions: Best Debut Actor (2014) |
Michał Otłowski (born in 1975) is a screenwriter, director, and producer. He studied at the Faculty of Law and Administration of the Szczecin University and then at the Department of Film Directing at the Film School in Łódź. He worked for the Polish Television (among others as the director and screenwriter for 997 Detective Show). He is an author of documentaries, short films, and advertising spots.
Selected filmography:
2014 – Jeziorak / Waterline
2006 – Sukienka z Warszawy