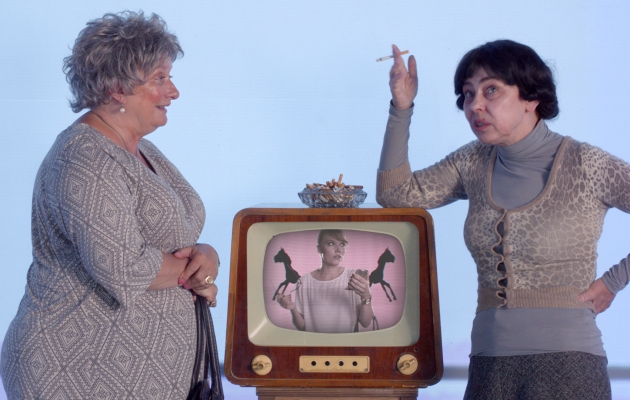 Screenings
21 October, 14:00 · Kino Centrum
No Matter How Hard We Tried is a story about the Polish society at the time of political transformation —  it is full of grotesque dialogues based on perversely twisted quotes from pop-culture, mockery of the language of advertisements, colourful magazines, tabloids, and national stereotypes. The main protagonists here are representatives of three generations of women, who live below the poverty line and occupy a cramped one-room flat in Warsaw: The Depressed Old Woman in a wheelchair, her daughter Halina, and a granddaughter —  The Little Metal Girl. This panorama of characters is supplemented with their neighbours, i.e. Bożena, who hands out leaflets, and film director "The Horse that rode on horseback", and two actors: a TV presenter and Edyta, who would like to help "all sorts of poor people".
The film is an adaptation of the play put on by Grzegorz Jarzyna in TR Warszawa and a play published by Dorota Maslowska under the same title, which made great success.
| | |
| --- | --- |
| Director: | Grzegorz Jarzyna |
| Screenplay: | Grzegorz Jarzyna |
| Cinematography: | Radosław Ładczuk |
| Editing: | Rafał Listopad |
| Cast: | Danuta Szaflarska, Aleksandra Popławska, Magdalena Kuta, Adam Woronowicz, Maria Maj, Rafał Maćkowiak |
| Production: | TR Warszawa, Wojciech Gorczyca, Grzegorz Jarzyna |
| Distribution: | Stowarzyszenie Nowe Horyzonty |
Grzegorz Jarzyna (born in 1968, in Chorzów) is a Polish theatre director, dramatist, librettist, and author of music to his own theatre performances. He studied philosophy at the Jagiellonian University and directing at the PWST National Academy of Theatre Arts in Kraków. In 1998, he was nominated the artistic director in TR Warszawa (previously known as Teatr Rozmaitości), where he would later become the managing director (since 2006). His theatre performances won numerous awards and Jarzyna himself was, among others, awarded the Medal for Merit to Culture — Gloria Artis and the Order of Polonia Restituta.
Selected filmography:
2014 – Między nami dobrze jest / No Matter How Hard We Tried