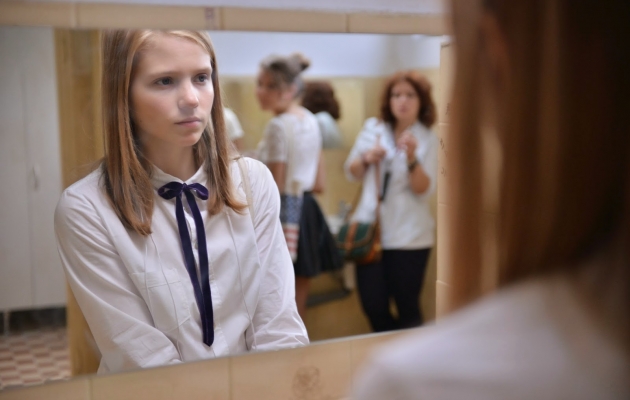 Screenings
22 October, 21:30 · Kino Centrum
Lila and Janek are pupils in a secondary school in a big city and they belong to a generation that communicates primarily via Skype and Facebook. They and their friends live their lives to the full. They party and experiment with alcohol and marihuana. Quito unexpectedly, one day Lila brakes up with Janek and accuses him of cheating on her. The boy in love will have to pay dearly for an innocent mistake. If he grants a promise the girl has forced him to fulfil, nothing will ever be the way it was...
| | |
| --- | --- |
| Director: | Anna Kazejak |
| Screenplay: | Anna Kazejak, Magnus von Horn |
| Music: | Kristian Eidnes Andersen |
| Cinematography: | Klaudiusz Dwulit |
| Editing: | Morten Højbjerg |
| Cast: | Eliza Rycembel, Mateusz Więcławek, Magdalena Popławska, Dawid Ogrodnik, Andrzej Chyra, Jowita Budnik |
| Production: | Łukasz Dzięcioł |
| Distribution: | Kino Świat |
| Awards: | FF Gdynia / Gdynia Film Festival – Złote Lwy: Najlepsza drugoplanowa rola męska / Golden Lions: Best Supporting Male Character (2014) |
Anna Kazejak (born in 1979) — she is one of the most talented directors and screenwriters of the young generation. She started studying film at the University of Silesia and University of Lodz, but give it up to study at the faculty of directing at the Film School in Łódź (2001). While studying, she made a few short feature films and documentaries. In 2009 she made a full-length documentary – Bocznica. She has finally made the decision to take a challenge of making a full-length feature film, which resulted was Flying Pigs (2010).
Selected filmography:
2014 – Obietnica / The Word
2010 – Skrzydlate świnie / Flying Pigs
2009 – Bocznica