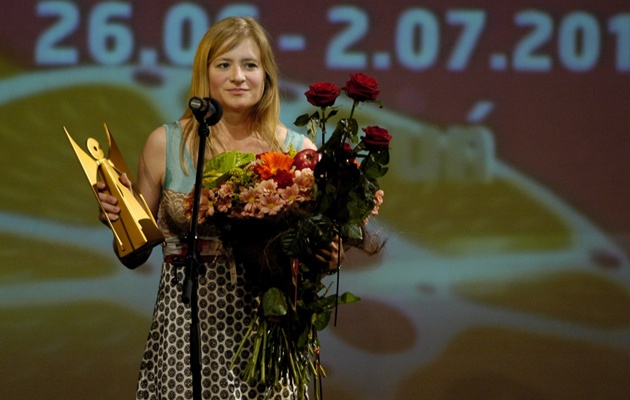 "I am glad that I could return to Poland again" - these words were spoken to audience by Julia Jentsch, special guest of 8th Tofifest International Film Festival. German actress received during the opening ceremony a Special Golden Angel for the emerging talent in European cinema. Film which opened the festival was Patrice Chereau's latest work "Persecution" which had also Polish premiere.
8th TOFIFEST International Film Festival has started! A Special Golden Angel for Julia Jentsch, distinguished guests and… acrobatics on stage. Orange festival set off on a weekly journey through the world of movies, music and culture guided by the motto "Because everyone has a rebel inside".
Opening ceremony was honored by Julia Jentsch – originating from Germany actress received a Special Golden Angel for The Most Promising Artist in European Cinema. Statuette was given by festival director Kafka Jaworska and President of Toruń Michał Zaleski.
"It is a great honor to stay in this beautiful city. Thank you for this amazing prize and this special distinction. I am extremely pleased that during the festival will be shown some of my films, and that I can visit Poland again" said during the opening ceremony Julia Jentsch. Recall that the actress has had the plays in the Polish theater and performance in the Polish film of Małgorzata Szumowska "33 scenes from life".
Rebellious festival prepared rebellious gift for the Star. When Jentsch appeared in the glare of the spotlights, on the scene fell traceurs from Toruń who welcomed guest by acrobatic and dance performance. It surprised the guest of the ceremony, all the more that after she also received blood-red roses from Toruń Parcour Team.
Eighth edition of Tofifest was officially opened by President of Toruń Michał Zaleski. About that the city of Copernicus is rebellious witness the fact that Toruń skipper threw out the official speech and welcomed the guests by spontaneous speech.
The festival has started in full swing. After the opening ceremony guests saw "Persecution" directed by Patrick Chereau, which was opening film and banquet at the Centre of Contemporary Art "Signs of the Times". Before us six days, filled to the brim with movies, music and art! During the nearly 200 different projections will appear more than 150 films. The festival is accompanied by discussions, business conferences, concerts and multi-disciplinary artistic events which are grouped together with movies in 23 bands. The projections take place in four cinemas of the Toruń Old Town, including modern Centre of Contemporary Art and an open-air cinema in the moat of Teutonic Castle. Centre of Tofifest Festival is Theatre Baj Pomorski.
We invite you to Toruń to 2 July!