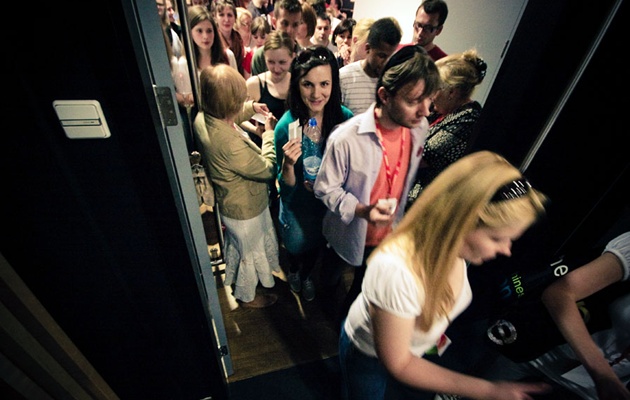 Monday at the Tofifest IFF will be marked by the expansion of the Georgian filmmakers, Polish film premieres and by mysterious nocturnal spectacle – Institute B61: Operation Slapstick.
On Monday New Georgian Cinema band will be inaugurate. At the festival will appear Georgian filmmakers such as Levan Koguashvili, Teimuraz Purtseladze, Salome Sepashvili, Zviad Eliza, Giorgi Gogiberidze, Tornike Bziava. Koguashvili as the director of the film "Street Days" is competing in the main competition ON AIR will meet separately with the audience in Theatre Baj Pomorski. After projections there will be also possibility to meet e.g. the producer of Wojciech Kasperski's latest film "Otchłań" – David Janicki, director of competitive short film "Julie and her guys" Fanny Jean Noel and outstanding director of young generation – Marcin Sauter. He will pesent on Tofifest his feature debut, "Na północ od Kalabrii". Sauter is a very important figure for the Toruń festival. For years Tofifest promotes his films on the platform of regional cinema, "Locations". In fact director derives from the neighboring Bydgoszcz.
Monday events will be closed by spectacle Institute B61: Operation Slapstick. This is a special interdisciplinary event, focusing on films, which accompanies Tofifest. Place where Institute B61 will be carry on remains confidential until the end.
Interestingly draws also a film plan. The most interesting Monday films are competitive: earlier said Street Days, dir. Levan Koguashvili, First of all, Felicia from Romania, dir. Razvan Radulescu and Melissa de Raaf and Altiplano dir. Peter Brosens and Jessica Hope Woodworth (Germany-Netherlands-Belgium). Georgian movie The Leader is always right, dir. Salome Mashi is very strong documentary film. There will also be already mentioned Na północ od Kalabrii dir. Marcin Sauter and cinema classics – Ken Russell Devils in CAMP NOT DEAD band, Educators dir. Hans Weingartner in FOCUS – JULIA JENTSCH band, and Przypadek, dir. Krzysztof Kieslowski in LINDA SPECIAL section which the accompanies the special prize for Bogusław Linda
Dziędziel, Borowski, Zero
Metropolis, city, dullness, everyday life... Anyone can be a hero – me, you, a taxi driver, businessman, porn actress. Forget about the colors, plastic Disneyland, which TV is trying to sell us, which you are trying perhaps to establish yourself. In real life, there is no space for it. Look around. What do you see?
The film "Zero" reveals the reality by rejecting everything that is false. People, whose lives intertwine in just one day, create a uncommonly true picture. Tofifest audience had the opportunity to meet and talk with "Zero" director Paweł Borowski and one of the actors, Marian Dziędziel after film projection.
It would seem that the "Zero" is a film composed of many sequences, but in reality it is a very carefully built unit that works like a well oiled mechanism. The director believes that: "Contrary to appearances, it is the one thread story; it is worth to look at this movie as a whole. You should not look at it as a separate thread, because it is a part of some larger reality. All characters have their own lives and problems which they faced in solitude. Each of us knows it". Unusual is that the director does not focus on human relationships. These relations are shown shallow and superficial. However, the viewer has the opportunity to observe particular unit in the most intimate moments. When director was asked what inspirate him to create such picture, he said: "We now have to deal with the loss of contact. Mobile phones, Facebook put into our relationship ephemeral. There is nothing true. The most interesting moments are these when we are alone with ourselves. Such moments are the truest. I do not want to judge my characters, I just show them. Trifles say much about us. Everyday life consist form trifles. From trifles and banality".
Viewers shocked and surprised by some character's behavior wanted to know where the director, who is also the creator of the script, drew patterns and inspirations. "Some of the characters have a true original. They are in fact more exaggerated and curious. I met such people" – said Borowski.
"Zero" is a very brutal film. Its reality composed of dark and dirty things. There is no hero, who from beginning to end would be really good. Everyone has something wrong inside. About inspirations Pawe* Borowski said in a surprising way: "This film was made as a result of terror. I saw some phenomena which disturbed me. Then I thought that it is so interesting that I will show it to viewers, because I do not create film for myself".
Marian Dziędziel talked mainly about working on his character. He defined it as "slimy taxi driver" whose everyone had opportunity to meet. In addition, he praised Paweł Borowski's commitment in work with actors on each of the roles.
At the end of the meeting the director thanked for taking part in interesting discussions. Asked about future plans he promised that soon we will have the opportunity to see his next film.
German pedophiles, Polish "Piggies".
"I wish a good seance, though the film is not nice" – these words were spoken yesterday to by director of "Piggies" – Robert Gliński. And a large hall in Baj Pomorski was filled to the brim. It was strong, very incorrect social cinema - after a meeting with Robert Gliński and Filip Garbacz.
The main hero of "Piggies" is Tomek (played by Filip Garbacz), sixteen years old boy who lives with his parents and sister in blocks near the border. One day Tomek finds out the secret of his school friend, Ciemny. He and several other teenage boys sell themselves for money for German pedophiles.
"This is not a romantic comedy (...). This is also not a film for people with blocks. I address it rather to the intelligent, students" – after the projection Glinński tried to convince for the importance and complexity of the problem. "Sociological studies have proved that for 50% of young people from the border town earning money by offering sexual services is a job like any other".
There were plenty of questions from the audience to the young Filip Garbacz, especially about how he coped with such difficult role: "From Lednica to Love Parade - it was a difficult, emotional trip of a young dreamer - how you create your character?". "I played what was written in the script. That's all." - responded the rising young star of Polish cinema (now he has have roles in Holland, Łazarkiewicz i Sala films).
The film moves, disgust, arouses great compassion. "These are male version of Galerianki" – at the meeting was no lack of this comparison. However, surprisingly the film has not share the success of Katarzyna Rosłaniec film. "This is socially incorrect cinema and the problem is not known. I do not think people will go massively on this film" – said Gliński. Tofifest keeps fingers crossed for "Piggies" – this film, with the other eleven, takes part in the FROM POLAND competition and, who knows, maybe on Friday will receive the Audience Award.
BREAKING NEWS
"GALERIANKI" WON FESTIVAL IN SPAIN
Show on TOFIFEST: July 1, 14:45, Baj Pomorski
Taking part in FROM POLAND competiton on Tofifest directorial debut of Katarzyna Rosłaniec "Galerianki" won the top prize at the 25th International Film Festival Cinema Jove in Valencia. This is the second Grand Prix for the film at an international festival.
"RÓŻYCZKA" WON FESTIVAL IN MOSCOW
Show on TOFIFEST: July 2, 22:30, Baj Pomorski
Jan Kidawa-Blonski was The Silver St. George Award at the festival in Moscow for his direction of "Różyczka". This is another significant achievement of this film, after The Golden Lions which the image received at this year's festival in Gdynia.