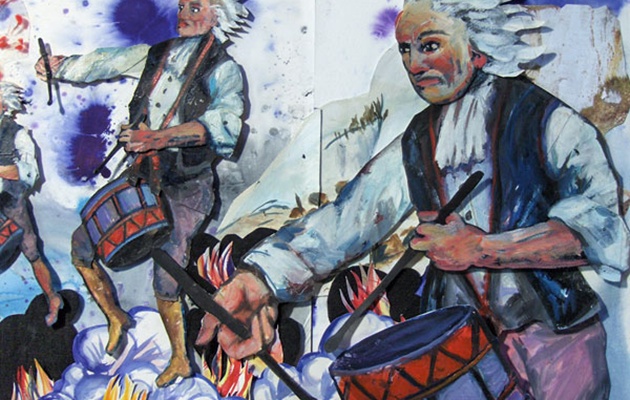 Sunday at the International Film Festival in Torun Tofifest proceeds under the sign of excellent short films from Shortcut competition and a unique panorama of Lithuanian shorts. In Torun, appeared Lech Majewski, Krzysztof Zanussi, Vladimir Niderhaus, Krzysztof Łukaszewicz and Robert Więckiewicz, who promote their films at festival.
We start with a small inventory. Yesterday evening, during the opening gala of 9th edition of the IFF Tofifest, the great actor and director Jerzy Stuhr has received a Special Golden Angel Tofifest for Artistic Insolence. This award will be the symbol of my whole life, artistic career and this, what I was capable of creating" – claimed " - claimed Stuhr, actor, educator, writer and director, who has been awarded two times with Golden Lions in Gdynia. "I am really glad to be here tonight and to hold this Angel as it is for artistic insolence, which is a very important matter for me. Being insolent at my age requires continual standing for what I believe in" – added Stuhr. He highlighted that his whole artistic life came out of inside disagreement. "Basically from query: What can I accept? My understanding of insolence is being faithful to myself and to what I create. In artistic thinking there is no chance for compromising" - said the winner.
Opening ceremony of the 9th IFF Tofifest was made more glamorous by the first polish premiere and second, after the first screening on Cannes' Festival in Europe, of the remastered version of the film "Clockwise orange" by Stanley Kubrick. Traded by censorship, rebellious film, in the fortieth anniversary of its premiere, has opened the "insolent" festival, thanks to the courtesy of Stanley Kubrick's family and Warner Bros. Entertainment Polska.
See photos on our website and Flickr.
.Sunday (26.06) it's a day of good films and meetings. Highly recommended film is "Kóngavegur / King's Road", that is presented in the main competition ON AIR. The film directed by Icelander Valdis Oskarsdottir. The film tells  the story of Juníor, young man, who returns to Iceland after three years of living abroad. He returns with many problems, but his return home doesn't exactly go according to plan. The character of Junior is portrayed by Daniel Brühl, who starred in "Goodbye Lenin" and "The Edukators". Oskarsdottir is known in the world editor. She worked for such films as: "Eternal Sunshine of the Spotless Mind" or "Mongol".
The films presented in the On Air Competition will be evaluated by a jury, comprised of: Dagur Kari – an Icelandic director, author of "Dark Horse" and "Noi the Albino", Borys Lankosz – winner of the Golden Lions in Gdynia, Paweł Sala – screenwriter, director and author of Mother Teresa of Cats, awarded at the IFF in Karlovy Vary, Tadeusz Sobolewski – a renowned film critic and Marta Żmuda-Trzebiatowska – a popular Polish actress.
New festival guests successive comes. In Sunday meeting with audience we can see Lech Majewski, who, in the competition From Poland, will present his famous  "Mill and the Cross / The Mill and the" Cross" with Rutger Hauer; Robert Więckiewicz , who will talk about his little-known role in Slovak film "Spokój w duszy / Pokoj v duši" Vladimíra Balko (Cultural Exchange section). Director Krzysztof Łukaszewicz and producer Włodzimierz Niderhaus, head of the the Documentary and Feature Films Studio in Warsaw will present treir "Lynch". In the evening during the projection of "Czarne słońce / Il solo nero" (From Poland competition) we will meet with legend of Polish cinema,  Krzysztof Zanussi. This film is - almost unknown in our country, it's still waiting for their entrance to the cinema. The audience will meet also a Mexican film director Pablo Gonzales ("Leave not a cloud behind").
Back to the films… This year very popular is New Serbian Cinema panel. On Sunday we will see "Tamo i ovde / Here and There" with a great role of Mirjana Karanovic, who has been awarded for "Grvabica" with Silver Bear at the Berlinale.
Sunday is a feast for lovers of a good short film. A unique presentation of Lithuanian shorts is a part of the New Lithuanian Cinema panel, which was prepared for Tofifest in cooperation with the Vilnius Film Festival "Kino Pavarsaris". Films screening in this block are: "2h_Dvi valandos / 2h_Two Hours" "3 minutes", "Kai ji vaikšto šalia / When she walk near me", "Nesiseka Šiandien / Not Lucky Today", "Nevykes scenarijus / Failed scenario" "Paukštelis / Birdy", "Pažaiskime / Let's Play" "Pravalas / Misunderstanding", "Senelis / Grandpa, "Svetimkunis / Foreign Mind", "Tai ne pie obuoli / This is not about an apple"oraz "Treciadieniais / On Wednesdays".
Lithuanian shorts will be accompanied by screenings of short films from Shortcut competition. We can watch: great Australian animated film "The Eagleman Stag", Belgian feministic  "Pour toi je ferai bataille / For you I will fight" by Rachel Lang or "Eu não quero voltar sozinho / I don't want to go back alone", story about Brazilian blind school boy and his love. But also: "Beredtes schweigen" ("Eloquence Silence") by Julia Keller, "The Father" by David Easteal from Australia, representing Holland - "Triumph of the wild" - experimental film by Martha Colburn, telling about human as an animal and as a hunter, "Diane Wellington", Polish "Zaśpiewaj mi do snu / Sing me to Sleep", "The Lost Explorer" and "Leave not a cloud behind".
We can't forget about films of our special guests: "Drzewa / Trees" by Grzegorz Królikiewicz and "In America / Nasza Ameryka" by Jim SHERIDAN.
In the evening, we invite to the outdoor cinema Open Space, located in ruins of Teutonic Castle of Toruń. Day ends with "Tofifest at night - FestKlub ENERDE", where "OSTRA KUCHNIA" party with funky, hip-hop, reggae and dancehall by Dj Feel-X, To Masz Cebo, Dj Żuku, Dj Funktion starts.
"Artist – sometimes, not all the time"
meeting with Jerzy Stuhr in EMPIK (relation)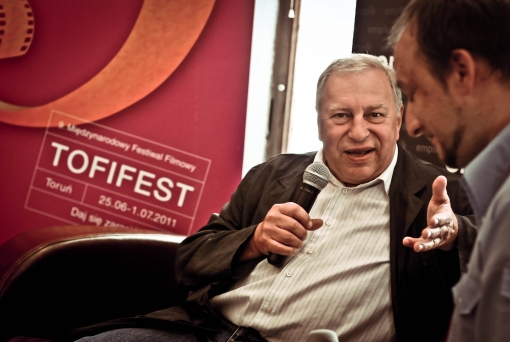 Before opening gala of IFF Tofifest, Jerzy Stuhr – great actor, educator, writer and director had met with audience in Toruń Empik. He was very open and friendly for people. Actor encouraged to ask questions, thus prolonging the meeting. Regardless of the nature of the question, he answered them all.
For example, question about the role of Donkey in Shrek: "Is it true that you can not stand him?"
J.S.: No, I have no problem with that. All my life I had a complex that I haven't done enough for children. Although I recorded the tales of the Brothers Grimm, Nicholas and Andersen. This role has a big importance for me.
By the way, the actor shared with us an anecdote: One day I walked in the Planty in Craco. One woman saw me and she began to cry out to his young daughter: "Come quickly, look, it's a donkey!" Girl replied with disarming indifference: "E, unlike." .
There were also serious questions about work with Kiślowski, who, what Stuhr repeated, created his way of thinking about cinema and acting, teaching sensitivity and distance to the profession.
J.S. In the film, Kieslowski has taught me how to sit in the navy and to say a few words about life. My own words. During the collaboration with Kieslowski, I realized that the making film can be wonderful fulfillment for the actor. Because from the side of editing room, for example, the actor is not so important.
Asked about "insolence" in his life, he answered:
J.S.: I really like the name of this award. For me insolence is my provenance, because my every single artistic act came out of disagreement on something. From this kind of disagreement the idea comes. To be insubmissive means to be very true to yourself, because how much can we forgive or change? If I had to go on the concessions, I could not look myself in the eyes in the artistic mirror.
* * *
Tomorrow programme:
27.06.2011, Monday

Tofi-for-Children: FILMOGRANIE
"White rabbit, red balloon, pink panter and film mornings for kids (4-8 years old)"
10:00-11:30, Primary School nr 1, st. Wielkie Garbary 9
Tofi-for-Children: FILMOGRANIE. Workshops
"MIKRO in MAKRO. Film's creatures" (8-14 years old)
13:00-15:00, Primary School nr 1, st. Wielkie Garbary 9
Meeting with Robert Więckiewicz and Magdalena Boczarska (actors)
15:00 projection of "Little Rose" (From Poland competition)
17:00 meeting (open for audience and media), Teatr Baj Pomorski, Room A
Meeting with Rafał Kapeliński (director)
15:30 projection of "Confident" (From Poland competition)
16:00 meeting (open for audience and media), Teatr Baj Pomorski, Room B
Meeting with Przemysław Wojcieszek (director)
19:30 projection of "Made in Poland" (From Poland competition)
21:00 meeting  (open for audience and media), Kino Centrum
Localizations  - discussion about filmmakers in Kujawsko – Pomorskie Region and about idea of Regional Film Foundation (after Localizations panel, 19:30)
Book promotion  - cinematography in Kujawsko – Pomorskie Region: 1987-2011
Leading by Grzegorz Giedrys, Gazeta Wyborcza
21:00, Teatr Baj Pomorski, Room B
Tofifest At night - FestKlub ENERDE, st. Browarna 6
from 22:00 / musicians: DUMP colektiw, DJ FUNKTION (prince JUL JAN)
FILMS
10.30 Kolekcioniere / The Collectress by Kristina Buozyte – 84', NEW LITHUANIAN CINEMA
13.00 and 17.00 Shortcut, block 4 and 2
12.15 Zabicie ciotki / Killing Auntie by Grzegorz Królikiewicz
15.30 Konfident / The Informer by Rafał Kapeliński, FROM POLAND (meeting with director)
14.30 This Sporting Life / Sportowe Życie by Lindsay Anderson, pasmo ANGRY YOUNG MEN
19.30 Localizations: block nr 1(  "Hakerzy Wolnosci", "Reszta jest milczeniem", "Caissa" and others) + discussion and meeting with directors
20.00 Sibir. Monamur / Siberia. Monamour by Slava Ross, ON AIR
22.15 Eastern Drift by Sarunas Bartas, NEW LITHUANIAN CINEMA
22.15 Schastye moye / My Joy by Sergiei Loznitsa (Ukraine-Germany-Holland), ON AIR
22.30 Wygrany / The Winner, OPEN SPACE