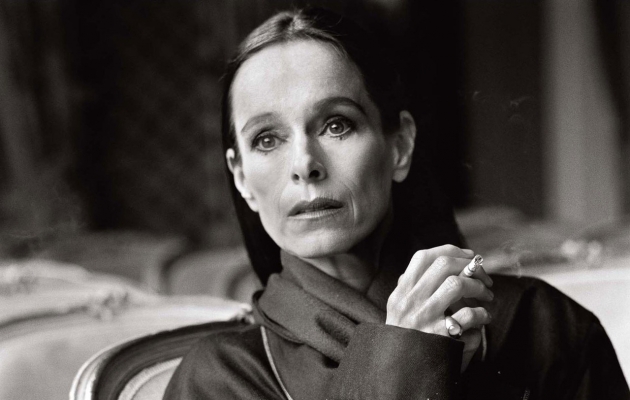 The star in the legendary "Doctor Zhivago" will be awarded a Special Golden Angel of Tofifest for Lifetime Achievement, during the Opening Ceremony of the International Film Festival Tofifest. Geraldine Chaplin is a daughter of the legendary Charlie Chaplin and one of the most popular actresses of international cinematography. She has been awarded the Goya Award and performed in films by Martin Scorsese, Carlos Saura, Robert Altman or Pedro Almodóvar. When in Torun, she is going to have a meeting with the festival's audience on Saturday and take part in the Opening Ceremony, in the evening.
It is a tradition of Tofifest to honour important figures of international cinematography, every year. We have already awarded such artists as Jim Sheridan, Jiri Menzel, Mirjana Karanovic or Julia Jentsch and Dagur Kari. This time it is Geraldine's Chaplin turn to be awarded a Special Golden Angel of Tofifest for Lifetime Achievement, during the Opening Ceremony. The actress has already received the "Spanish Oscar", i.e. the Goya Award for the Best Supporting Actress in The City of No Limits (2003). She has also been nominated for the Golden Globe Award (for the performances in "Chaplin" and "Nashville") and BAFTA Award (for "Welcome to L.A.").
She made her screen debut in 1952, in the famous Limelight by Charlie Chaplin. Her first lead role was Sonya, the wife of Omar Shariff in Doctor Zhivago (1965) by David Lean, in which she co starred Alec Guinness and Klaus Kinski. She was a long-time muse, life companion and actress of Carlos Saura, one of the most popular Spanish directors. She has given magnificent performances in Saura's Peppermint Frappe (1967) and Raise Ravens (1976).
She has also cooperated with Robert Altman ("Nashville", "A Wedding", "Buffalo Bill and the Indians" or "Sitting Bull's History Lesson") and Martin Scorsese ("The Age of Innocence", in which she co-starred Daniel Day-Lewis, Michelle Pfeiffer and Winona Ryder). Then, she cooperated with Franco Zeffirelli in "Jane Eyre" (1996), Andrei Konchalovsky in "The Odyssey" (1997) and Alain Resnais in "La Vie est un roman" (1983). She has performed in two films about her father: in a documentary Unknown Chaplin (1983) and the famous Chaplin by Sir David Attenborough. In the latter, she portrayed her own grandma, Hannah Chaplin, and her film partners included Robert Downey Jr. (as Charlie Chaplin) and Kevin Kline (as Douglas Fairbanks).
In recent years, she has been successful in the heartbreaking horror The Orphanage (2007) by Juan Antonio Bayon, for which Geraldine Chaplin was nominated for the Goya Award), Talk to Her (2002) by Pedro Almodóvar and last year's Memories of My Melancholy Whores by Henning Carlsen. She is currently working on three film productions, which are expected to be released in 2013: Spiritismes by Guy Maddin, Tres60 by Alejandro Ezcurdia and Hostias by Jean Diego Musiak, co-starring Ewan McGregor and Naomi Watts.
The 10th Edition of the IFF Tofifest starts on 20th October, in Torun. During the festival, Krystyna Janda shall be awarded the Golden Angel of Tofifest for Artistic Insolence and Jakub Gierszal shall receive the Flisak Tofifest Film Award for the Best Rising Talent of the European Cinema. The On Air Feature Films Competition will present 11 films international debuts, 10 of them will have their Polish premieres during the festival. The two additional film competitions include SHORTCUT (for short films) and FROM POLAND (for films made in Poland). Tofifest 2012 will also present the first European retrospectives of the Blaxploitation genre and Smita Patil, an Indian film actress and feminist activist. The national cinema sections will include New Philippine Cinema, New Austrian Cinema and New Hungarian Cinema. A special TOP9 section will present the winners of the festival for the years 2003–2011, in order to celebrate a decade of the festival's existence.